This time next week, we could potentially know who has their hands on Liam McCarthy this year.
Will it be a two in a row for Galway or will the youth and potential of Limerick shine through for a first All Ireland Senior Hurling title for the county since '73? Hawkeye Sidekick reflects on the key battles ahead of the final.
Handling the Occasion 
Playing in the showpiece hurling fixture of the year can be viewed with two schools of thoughts: relish the occasion and play without fear or let the occasion consume you and let the day pass you by. 
Limerick team since '73 have being guilty of the latter. Kilkenny particularly in '07 exposed Limerick naivety as they bullied the side in the opening exchanges to establish a match winning position. Seamus Hickey no doubt will be conveying his experiences of that game to his colleagues. 
Galway have experienced mixed days on All Ireland final day. Last year was a welcome relief; getting over the winning line at last after several near misses. A fixture where marquee players may be outshone by players who are not mentioned in the lead-up. 
How Galway and particularly the young Limerick side handle this occasion will be the primary key battle to win before the sliothar is thrown on Sunday afternoon at 3:30pm. 
Battle of the Goalkeepers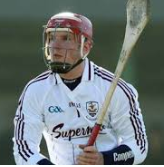 The performance of the two goalkeepers will be interesting to watch. With the modern game so dependent now on quick, accurate delivery from the puck outs; both net minders will be under pressure early to find their outfield colleagues to increase overall team confidence. 
Skehill has being the standout number one for Galway this season and the net minder has impressed early in games with his distribution; one trend I noticed during the two recent Clare contests was his persistence to hit long once Clare were dominating in the middle third. Galway movement for the keeper was not as fluent as it was in the opening quarter and a repeat will be play into Limerick's hands. 
Nicky Quaid for Limerick has provided efficient puck out delivery; his corner back and wing backs providing the Effin net minder with quick options at all times to launch attacks. Quaid will look to involve Darragh O'Donovan and potential game changer Cian Lynch with early touches if the situation allows. 
Both keepers are excellent shot stoppers; Skehill is such an imposing figure for Galway; his play to date has being solid and that is what a full back line requires; no frills, unspectacular but solid goalkeeping. Limerick's pace inside and ability to create space for Gillane will add a new defensive problem for Galway to deal with. Skehill needs to be proactive coming out of his goal to cleanup misplaced delivery into the full back line. 
Nicky Quaid has pulled Limerick out of a couple of dangerous situations in recent games; his saves against Cork from Kingston in the opening period and then the flick away from Harnedy was sublime. Quaid will hope that Limerick defensive lapses are at a minimum but with the threat of Jonathan Glynn at full forward, Quaid will need to communicate well with Mike Casey and corner backs to quell that threat. 
Midfield Battle 
The most intriguing battle on Sunday will be in the midfield area; both units are more than capable of producing key cameos to setup victory for their respective team. 
David Burke and Cian Lynch will be the players of note here but lest not forget their midfield partners in crime. Johnny Coen and Darragh O'Donovan play pivotal roles for both sides. 
Coen was superb against Clare in the All Ireland Semi-Final replay; his deployment to man mark Tony Kelly subdued Clare's talisman. Coen has being prominent in his attacking play this season; a couple of standout scores in the All Ireland series evidence of this. 
Darragh O'Donovan is the classic box to box midfielder; his distribution and side line cut threat is a real asset to Limerick and complements Lynch's game perfectly. Lynch will look to create and probe while O'Donovan's running game and ability to close out opposition attacks in defensive positions has being on point this season. A key cog in the Limerick middle third. 
David Burke. Captain fantastic and a key leader in this Galway side. Burke's ability to vary his style of play comes to the fore; his ability to support run and unerring accuracy to hit scores from long distance provides Galway with a key weapon on Sunday. Burke is not afraid to mix it physically if need be for the greater good of the team. 
For Limerick to win on Sunday, Cian Lynch's performance will be key. The Patrickswell club man will need to hold his nerve on Sunday as Galway will look to double mark the star player early doors. Lynch will need to be sharp with his distribution and first touch to get others involved and then gradually look to control affairs with his running from deep. His goal from Cork was everything good from Lynch; ability to sense a goal scoring chance by making the run inside, ability to shot with precision was superb. 
Superb clash awaits and it will be a fascinating first quarter of exchanges to see who gains the upper hand. 
Half Back Battle 
The key positional battle on Sunday. The big question is whether Gearoid McInerney's will start? It looks like the Oranmore-Maree club man is winning his fitness battle for the showpiece event at the time of this blog post.  
McInerney's inclusion will be keenly noted by Limerick. How will McInerney manage the game given his recent injury issues? His movement will be tested early doors by Kyle Hayes with his powerful run game. McInerney may deploy in front of the Limerick full forward and look to negate the Limerick distribution plays inside. 
If McInerney is not fit to participate, Galway will look again to Joseph Cooney, Padraic Mannion and Aidan Harte to dominate proceedings. Cooney was sublime last time out and along with Harte provided key cameos but it was display of Mannion which caught the eye; the number of possessions, his ability to launch attacks with quick passing was sensational. Alternatives for sure but it does not lent itself for rotation if issues arise as Limerick's half forward line have the aerial ability and movement to cause issues for Galway. 
Declan Hannan's role on Sunday is a key role for Limerick. How does Limerick's half-back negate the threat of Joe Canning while contending with the threat inside of Jonathan Glynn?
Hannan is going to have throw different looks during the contest to unsettle Galway's attacking play. Limerick's middle third work rate will need to be on point when Hannan decides to deploy just in front of the full back line.
Hannan, Byrnes and Dan Morrissey had mixed afternoons against Cork who exposed positional defensive lapses and poor distribution options to score several points. Byrnes and Morrissey need to set the aerial dominance from the first exchanges to allow Hannan to game manage in the pocket. 
Forward Line Battle 
The forward lines on show have the potential and ability to pose issues for their respective opposition. Galway will look to go for the throat early and the opening exchanges should see Glynn given an opportunity to test out Limerick's full back unit. Casey will need assistance to negate the threat and Hannan, English, Finn will need to step up to the plate when they can. 
Joe Canning obviously is the key cog of the Galway forward line. His free taking, side line cut prowess, threat with sliothar as well as his work rate and tackling leads by example. The rest of the forward line unit follows and with Cathal Mannion providing key scoring cameos from long distance along with the threat of the likes of Conor Whelan, Galway are well set to test out Limerick's defensive credentials. 
For Limerick, their forward line's movement and awareness of space to allow colleagues to expose a defensive gap has being on joy this season. The distribution from the middle third has allowed Flanagan, Mulcahy and Gillane ample opportunities to impress. Gillane's goal threat seen in recent fixtures and sense that if Galway give opportunities for the Patrickswell player, he will punish those chances in the showpiece event. 
Flanagan for me has a huge role to play on Sunday. The full forward's pace has to test Daithi Burke and ask questions of Burke whether he follows his marker or allows the player the time and space to score. Key decision for Galway management to negate this threat. 
Limerick's half forward line need to deliver this weekend. Hegarty's performance against Cork saved the unit as Hayes and Morrissey had inconsistent cameos for long periods. Early momentum shift for Limerick in this line is good news for Limerick in the overall context of this game. 
Bench Impact
Loving the impact off the bench from Limerick this season. Limerick remain me of an ice hockey side; the first line coming off in the third quarter to be replaced with a line equally as potent. 
Experience, game winners and game management to the fore with Shane Dowling, Peter Casey, Barry Nash, Pat Ryan, William O'Donoghue, Seamus Hickey to call upon and their cameos against Cork in extra time were too much for the Rebels. 
Dowling's leadership in the All Ireland series has being inspirational; his post game comments after the Cork game have set the tone and Limerick will deliver a performance on Sunday. 
The Limerick bench is loaded with options but Galway's squad depth has being minimal. There is several standout players in the ranks but management have stuck to Flynn, Niall Burke, Sean Loftus and Davy Glennon as options in the last two Clare contests. 
If Limerick can be in and around Galway heading into the final quarter, just wonder if the impetus of fresh legs and energy will be the difference here?