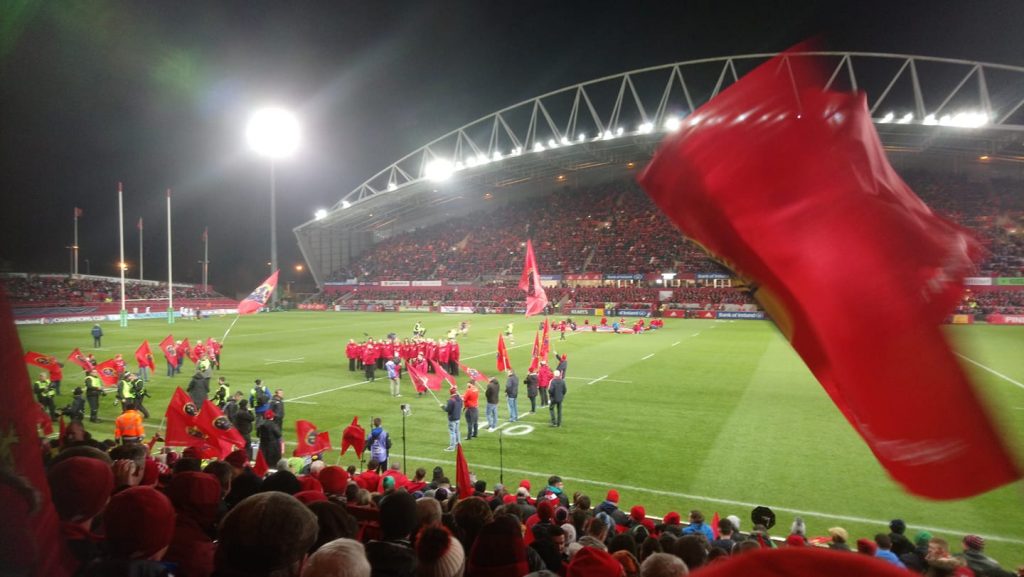 In this blog post, Hawkeye Sidekick reflects on Munster Rugby's 21-21 draw against Racing 92 at Thomond Park. A result which may have ramifications further along in this pool campaign next January but this fixture was a superb spectacle.
Pregame
The East Terrace North was a buzz with excitement before the game. A stirring rendition of Stand Up and Fight by Jean Wallace setup the fixture perfectly and the game did not disappoint.
The French team approach to trips to Thomond Park have been lackluster at best but the one team who have always looked to have a serious cut off Munster Rugby has been Racing 92 and given the sizable number of fans who came to Limerick, they came into the fixture with confidence.
The warm up routine from Racing 92 was particularly noteworthy. Machenaud at scrum half looked less than comfortable during kicking drills and was a late scratch from the fixture. The pack were going through their drills in a high tempo manner; defensive maul work a key priority.
Munster Rugby's warm up was also noteworthy. Plenty of focus on set piece execution and looking to create width where possible during open play drills. JJ Hanrahan had a drop goal effort that went wide; a sign of things to come later. All systems go.
Bruising early exchanges
The opening period was an incredibly bruising affair. Each side had early momentum gains. Racing 92 conclusively winning the first scrum of the day but then Munster Rugby pack responded in kind. The forward packs warming to the task nicely.
Line out issues were ruthlessly exposed by Racing 92 and chiefly Donnacha Ryan two years ago in the semi-final of this competition; history started to repeat itself in the opening period with Munster Rugby's line out calls looking less than decisive and with Racing 92 competing with three options (Ryan, Bird, Lauret) throughout.
Cue panic in the Munster Rugby line out calls; some quickly thrown line out options causing unforced knocks on, surrendering field position for Racing 92 to prosper. Donnacha Ryan was enjoying his return to Thomond Park and putting Jean Kleyn and Tadhg Beirne under massive pressure.
Finn Russell at the controls
The line out miscues from Munster Rugby were the prelude to Racing 92's scores in the opening period. Territory gained, cue Finn Russell to orchestrate with breathtaking efficiency.
Russell has all the skill set to launch a back line with aplomb and his footballing skills are immaculate evident in his nutmeg on Rory Scannell before collecting the ball and crossing over for the opening try of the contest.
Simon Zebo was the first player to congratulate the Scottish international and it was obviously from the first exchanges that Zebo was charged up for the contest; a powerful run targeting the ten channel his early statement of intent. His leadership seen in his back field organization.
Munster Rugby admirably responded to this early blow. Multiple phase work in the Racing 92 half forcing a penalty which Hanrahan slotted over. Munster Rugby's phase work was attritional; players gaining inches and ball presentation at ruck time was precarious to say the least with Racing 92 flooding the ruck area and slowing ball successfully.
Thomas open play magic
6-7 and then came the score of the game. Teddy Thomas is an enigma. When he is on, he is world class and his try exhibited all his skill set. Finn Russell again different class identifying Niall Scannell just out of synch in defensive line creating the player overlap. Thomas put on the after burners and then executed a superbly deft chip over Mike Haley to collect and cross over between the posts. The try oozed class. Silence at Thomond Park, more admiration for the skill set on show.
Munster lifeline, Keith Earls
6-14. Munster Rugby were facing serious questions; questions on how they were going to get back into this contest; questions on their Heineken Cup ambitions. Munster Rugby have started to develop a more expansive style under the new attacking ideas of Stephen Larkham.
Yes, there were cohesion issues and some questions on when to be expansive but opportunities in the second quarter were created. Knock on from Hanrahan was tough just on the try line but Munster Rugby continued to pepper and cue Keith Earls to get the hosts a lifeline.
Some good hands in the lead up to the try but the Moyross native had plenty to do when he received the ball ten meters out but his pace was too much for Zebo on the outside and then had the awareness to launch in the air and safely touch down in the corner.
Yet another top quality score in what was turning out to be a titantic battle. Hanrahan missed the difficult conversion but Munster Rugby were back in this contest. 11-14 at the break.
Terrace reaction was one of hope and optimism after the Keith Earls try but acceptance that Racing 92 were the better side. A huge third quarter was required and for the opening eight minutes for Munster Rugby, it was mission delivered.
More probing around Racing 92 half yielded a penalty which Hanrahan duly slotted over. 14-14 and the game was set to take another twist.
Munster respond and then hit the canvas again!
Jeremy Loughman was in the coal face from minute one but rising to the occasion. However, when his ankle gave out, it provided the perfect opportunity for that man again Finn Russell to expose Munster Rugby's defensive line.
A snipping cut around Loughman and Racing 92 were away again and Juan Imhoff was on hand to receive the pass to cross over yet again. Another hammer blow sustained. 14-21.
The French team approach then was interesting as they dominated territory but were quite happy to camp deep in Munster Rugby territory and not go for the bonus point try.
A penalty was awarded and the subsequent kick was wide. A let off of many for Munster Rugby as a couple of balls went just dead to the relief of the local fans.
Munster Rugby Bench make impact
14-21. Munster Rugby management cleared the bench and the decision was justified. Wycherley and Holland provided freshness and spark; the line out looking better. Wycherley adding massive to the breakdown battle; hitting anything that moved. Botha's ball carrying will not get plaudits but the South African got through massive work in his cameo.
The bench impact in the scrum from Archer evident in key penalty wins which provided massive field territory opportunity for Munster Rugby. Racing 92 were now the side on the back foot and the home supporters sensed as much, cue the Andrew Conway try.
Some lovely running lines and line breaks creating space out wide but it required JJ Hanrahan to float a gorgeous skip pass to Conway who touch down in the corner. Pressure put on Hanrahan but he nailed the conversion. Level game. 21-21. All to play for.
Drop Goal Drama
The subsequent exchanges were enthralling. Each box kick looking for a decisive game moment. Keith Earls then received the ball and kicked long and with interest; a superb long range touch finder and Munster Rugby were back in Racing 92 territory. A botched line out from Racing 92 resulting in Munster Rugby line out just outside the Racing 92 '22.
Cue the significant passage of play. Munster Rugby's pack inching their way to the try line but Racing 92 putting bodies on the line. There were a couple of infringements for sure in the phase but the match officials decided that the sides had to win it on their own merits. The ball was then spun out to Hanrahan after umpteen phases but as in the warm up, the ball was snatched at, no chance of going over.
There was even enough time for Racing 92 to launch their own attack but the line out again malfunctioned and signaled the end of the contest. 21-21 draw. Racing 92 did not deserve to lose. Munster Rugby for their fight and determination to not to give up secured a share of the spoils. Competitive contest with nothing given by the two sides on show.
Reflections
Munster Rugby bide farewell to Alby Mathewson and his cameo off the bench breathed life to the game plan. Conor Murray struggled for tempo and cohesion. Ruck time was a mess but Murray was more concerned with looking for penalties than actually getting on with the game. His usually unerring box kicking was out of synch. Murray looks like a player who needs a break from the game. He is trying so hard but nothing is working for him at present.
The team selection particularly in the back row will need to be reflected upon. O'Donoghue came in and his role was to provide mobility and breakdown winning capability. Neither materialized and O'Donoghue struggled to get into the contest; caught on his heels defensively in the opening period. Was Wycherley or O'Donnell a better option?
JJ Hanrahan will come on hugely from this experience. He had a good game overall. The Kerry man will be the first to put the hand up for the knock on and the drop goal miss at the death.
With Carbery out for the considerable future, the ten jersey is with Hanrahan and Bleyendaal. Both provide good running game plans but refinement in kicking in open play is required. Racing 92 defensive line was quite flat and a deft grubber kick could have caused chaos.
Mike Haley had an excellent outing. He was confident in the air and his running lines were so impressive; setting up excellent field position. Haley was the man of the match for Munster Rugby and hopefully if he can improve on the defensive side of the ball, Haley can force himself into national team setup plans.
Racing 92 will reflect and perhaps be disappointed that they did not win this fixture. Their game plan was on point; stifled Munster Rugby at the breakdown and then executed their attacking play with unerring accuracy. With Russell, Thomas, Imhoff and Zebo in full flow, this is a side who are one of the favorites to win this competition.
Munster Rugby know that a road trip win in either Saracens or Racing 92 is required to have any chance of advancing from the pool. The draw leaves no room for error. The draw could have effectively reduced the number of teams coming out of the pool from two to one. This was the pool of death, this weekend and Thomond Park just proved how difficult and tough this pool is.
The final word goes to the end of the game. Teams shook hands and then Zebo, Ryan and Mathewson got to sample Thomond Park for the last time this regular season. A superb send off for all three players.
Mathewson was visibly upset; passion he has shown in the jersey will be missed and his perspective new employers are getting one hell of a player. All the best Alby!