These are extraordinary times and this European Champions Cup draw this afternoon is no different. Twenty-four teams in the big dance. Two pools of twelve teams with essentially mini-leagues within these pools to decide the top four teams in each pool. Hawkeye Sidekick takes on the story.
How is this going to work?
This new concept has been introduced due to the Covid-19 pandemic rugby union fixture scheduling pressures.
For the purposes of the pool draw, the clubs were separated into tiers, and clubs from the same league in the same tier were separated and not drawn into the same pool.
Tier 1:
Number one and number two ranked clubs from Guinness Pro 14, Top 14 and Premiership were in Tier 1.
Tier 2:
Number three and number four ranked clubs from Guinness Pro14, Top 14 and Premiership
Tier 3:
Number five and six ranked clubs from Guinness Pro14, Top 14 and Premiership
Tier 4:
Number seven and number eight ranked clubs from Guinness Pro14, Top 14 and Premiership
The Tier 1 and the Tier 4 clubs which have been drawn in the same pool, but which are not in the same league, play one another home and away during the pool stage, as will the Tier 2 and Tier 3 clubs which have been drawn in the same pool, but which are not in the same league.
The six rounds typically seen in the pool phase of this competition is now reduced to four rounds with home and away fixtures with the other two teams in their pool. Are you with me so far?
Fixture Scheduling
The rationale behind this new look pool stage will kick off in December with two rounds of fixtures. The final two rounds of this pool phase will take place in January.
Round 1 – 11/12/13 December 2020
Round 2 – 18/19/20 December 2020
Round 3 – 15/16/17 January 2021
Round 4 – 22/23/24 January 2021
Quarter-finals, 1st leg – 2/3/4 April 2021
Quarter-finals, 2nd leg – 9/10/11 April 2021
Semi-finals – 30 April – 1/2 May 2021
Final – Saturday 22 May.
Who qualifies for the quarter finals?
If you remember those two main pools I mentioned earlier in my post, the draw today was to determine team's schedules in each main pool (Pool A and Pool B).
The aim then is to collate the results from these fixture schedules in each main pool and determine who is the top four (1-4) sides who will advance to the European Champions Cup quarter finals in each pool.
How will the quarter finals work?
Once the top four from each main pool is identified, the quarter final setup will see the following pairings:
1st Seed in Pool A vs. 4th Seed in Pool B
2nd Seed in Pool A vs. 3rd Seed in Pool B
1st Seed in Pool B vs. 4th Seed in Pool A
2nd Seed in Pool B vs. 3rd Seed in Pool A
What happens with the other teams?
Teams who finish 5-8 in the main pool A and B will slot into the last sixteen of the European Challenge Cup. The fixture scheduling looks fun here to be honest, let's not go there yet. I don't think the organizer know that either.
How the Pools setup?
The competing teams have been paired with two other sides. The Irish provinces had differing draw experiences. Connacht Rugby got a tough draw as Racing 92 and Pat Lam's Bristol Bears. The Pat Lam connection should spark some great memories and stories from the Samoan's tenure in the province.
Leinster Rugby meet Montpellier and Northampton Saints again. Montpellier are an enigma, never appear to take this competition seriously. A physical pack but Leinster Rugby should negotiate this challenge as well as Northampton Saints who have evolved but still Leinster Rugby put the Premiership side to the sword home / away last season. Leinster Rugby look good to secure a top seed in this Pool A.
Ulster Rugby have a tricky draw. Gloucester Rugby and Toulouse form their fixture list. Toulouse easily beat the Northern province a couple of weeks ago and it looks a daunting fixture here. Gloucester Rugby if on form will provide plenty of threat but they are so inconsistent. Ulster Rugby to earmark the Gloucester Rugby games and look potentially to take Toulouse scalp at Kingspan.
Munster Rugby have a tough draw as well. Clermont Auvergne are a proper rugby club and an away trip to Stade Michelin is one of the toughest arenas to get a result (empty or not). Harlequins and Jerry Flannery will come back to Limerick in double quick time. Flannery's tenure as player and coach was superb so good to see him back to Munster Rugby HQ.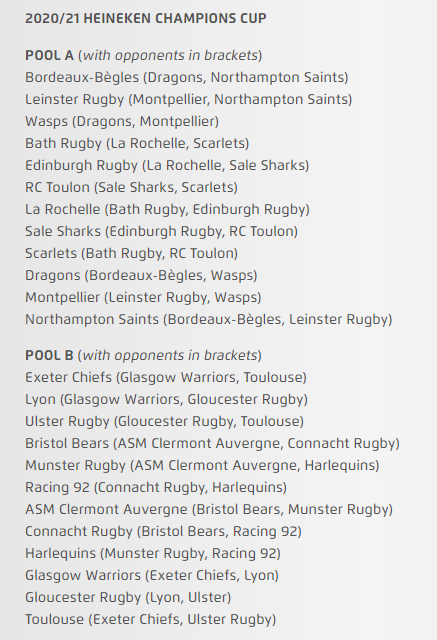 Initial Thoughts
The cream will rise to the top here. Pool A should see Leinster Rugby prominent at the top of the standings. Wasps fixture list looks decent if Montpellier do their traditional no interest in the competition attitude. Edinburgh Rugby and Sale Sharks could be teams to watch as their fixture list looks decent too. Scarlets, Toulon, Bath Rugby look to have extremely tricky fixtures. La Rochelle could be a dark horse.
Pool B sees some tough pairings. Exeter Chiefs have a tough fixture list with Glasgow Warriors (Hogg return to Scotstoun) and Toulouse (reunion after their semi-final loss). Lyon are a side if interested in this tournament could make an impact. They face Glasgow Warriors and Gloucester Rugby but their attitude to this tournament has had apathy written all over it. This pool looks tough to predict right now.