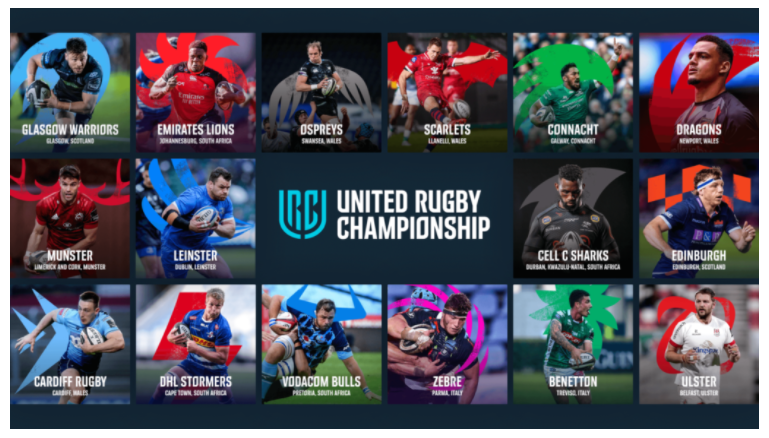 The United Rugby Championship was launched to the media masses and public domain today. A slick advertising brand campaign launch to herald the arrival of the South African teams into the competition to face the existing Irish, Italian, Scottish and Welsh sides who played in Guinness Pro14 league action. Hawkeye Sidekick runs the rule over the new tournament format and gives his initial thoughts.
How will the competition work?
Who are the teams who will play in the United Rugby Championship?
| | | | |
| --- | --- | --- | --- |
| Irish Pool | Italian / Scottish Pool | South African Pool | Welsh Pool |
| Connacht Rugby | Benetton Rugby | Vodacom Bulls | Cardiff Blues |
| Leinster Rugby | Edinburgh Rugby | Emirates Lions | Dragons |
| Munster Rugby | Glasgow Warriors | DHL Stormers | Ospreys |
| Ulster Rugby | Zebre Rugby | Cell C Sharks | Scarlets |
How will the regular season scheduling work?
Each pool consists of four teams. They will play each other home and away so that represents six out of the eighteen regular season fixtures.
The other twelve fixtures will see each side play other sides from outside their conference. Therefore, there will be six home and six away fixtures in this block of fixtures for each side in this competition.
After eighteen rounds, what happens next?
One league table will be used to rank teams after eighteen rounds. Points tally will be used to determine rankings. The top eight sides will qualify for the playoffs. Teams will be seeded from 1st to 8th and with it, the first four seeds will receive home advantage.
When will the South African sides enter European Champions Cup and Challenge Cup competitions?
The eagerly awaited South African entry into European competition will happen in the 2022-23 season. Depending on their points tally and whether they have a top eight place after the regular season fixtures to secure European Champions Cup berths.
European Challenge Cup places will be decided how?
The European Challenge Cup places in the United Rugby Championship will go to the sides who finish from 9th to 16th in the consolidated league table standings. Get the passports ready for Siberia and Romania!
Initial Thoughts
Irish Pool looks tricky and cut-throat
The pool head to head contests will be vital. The Irish pool will be cut throat and it will be interesting how the provincial head coaches manage those fixtures given that next season is a World Cup year.
The days of Ireland securing four provincial team berths in European Champions Cup season is now a thing of the past. It looks like two Irish representatives could be an achievement given the schedule.
Opportunity knocks for an Italian and Scottish side
Italian and Scottish pool looks a massive opportunity for Benetton, Edinburgh, Glasgow or Zebre Rugby. When you compare this pool with the others, we could see Rainbow Cup schedule standings trend emerge again. I could see three teams from this pool secure European Champions Cup berths.
South African sides transitional period?
South African pool looks interesting. The intrigue is when the South African sides come to the Northern Hemisphere and have to adapt to the winter conditions. The game plan and tactics will need to evolve.
We saw it with the Toyota Cheetahs and Southern Kings that there is a period of transition required to adapt to this tournament but these four sides will have massive packs at their disposal and with that a huge probability of pack platform dominance.
Welsh pool looks competitive
The Welsh pool will also be interesting also. Local derby clashes aplenty and it will be interesting to see who emerges as a front runner in the pool. Blues and Ospreys impressed in recent weeks.
Improved officiating?
The officiating crew hopefully improves. The Guinness Pro14 officiating has being subject to critique at times during recent years and will there be interpretation inconsistencies between NH and SH officiating crews?
New league is welcomed
The league format has to be welcomed. The two conference format had merits but the usual suspects were out of sight within the first few rounds and certain fixtures became processions. This scenario stops.
The Rainbow Cup format was designed to bring that end of season excitement but it never materialized with the conference north final fixtures affected by Covid-19.
We should see excitement. The schedules will be critiqued if one pool has more sides than others but for now, the Guinness Pro14 tournament has served its time.
It is time for a new era. An exciting era where South African sides enter the fray and open up more opportunity for the league organizers to integrate more franchise teams (Madrid, Barcelona, Berlin) into the competition if this new tournament takes off.