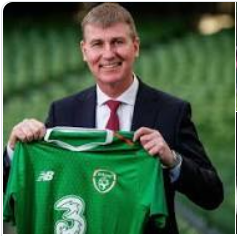 If you are a follower of this blog and listen to the Irish Soccer fans podcast, I have been in the pro Stephen Kenny camp throughout. The manager dealt with Covid-19 issues immediately with the UEFA playoff loss against Slovakia and it has not got any better.
There is a tendency in Ireland where the heroic defeat is lauded. Serbia and Portugal away losses have ticked those boxes in this current qualification campaign. Portugal fixture midweek and management not putting fresh legs sooner was a factor. Ronaldo did the rest!
The side are in transition was my line on the podcast in recent months. A new manager looking to kick start a new ethos and game plan to the senior national side. It is going to take time but I did not think we would struggle against Luxembourg and Azerbaijan so badly.
International football is a results business. If Stephen Kenny came out and said he would be blooding several new players in this campaign, then I think most Irish soccer fans would accept that but I think today is the turning point given the conservative selection. The small chorus of boos at the end could increase significantly midweek at the final whistle against Serbia.
Kenny announced an exciting era when he arrived as national team manager. How is James McClean at full back today supporting this statement? Management ran the rule over the player in the summer and I thought that would be that. Ryan Manning who is playing with Swansea this season has played well for club but he cannot get a look in for the national side. Manning reduced to training drills. giving encouragement to the players on game day. Why bother?
Azerbaijan today. This is a side ranked 112th in the FIFA World rankings. The brutal fact is this. Azerbaijan had better technical players on the park than Republic of Ireland. They were unlucky not to secure a famous away win. Republic of Ireland huffed and puffed but no final third quality until Shane Duffy rescued the fixture.
The midfield area emphasized this point. Kenny took a gamble on Jayson Molumby who has not played any club game minutes this season. It back fired. Molumby sluggish to the ball, first touch and passing off. It all mirrored a first game of the year display. Molumby frustrated, hauled off for Conor Hourihane in the second half. Molumby is a talented player but what damage in confidence will this do for the player? The management team need to take blame on that selection.
I am still staggered that Gavin Kilkenny was not called up to the squad. Kilkenny is a superb prospect and shown massive potential for AFC Bournemouth early but management here knows best. Jason Knight is a big loss, no point saying otherwise but we had other underage talent to make an impression with Alan Browne just coming back to full fitness.
Andrew Omobamidele. The Norwich City defender was summoned for action midweek and acquitted himself well in pressurized circumstances. I presumed he would get more game time today but unfortunately that was not the case. If you are Andrew Omobamidele, what are you to think? Does Stephen Kenny or Keith Andrews rate me? I thought I did a decent job midweek. Andrew Omobamidele's omission resulted in a midfield area which was out of synch.
Seamus Coleman was summoned to the back three role but struggled today. Coleman yearned to be in a more advanced position, looking to make a run off the shoulder of a player inside to produce cross after cross. The Azerbaijan goal, enough about Coleman's defending the better. He should call himself out for that and for him not to front up to the RTE cameras postgame was enough. Josh Cullen deputized, read between the lines!
Matt Doherty after admitting to health issues midweek started today. Doherty took one for the team but he was ineffective. He was visibly struggling in the second half. If you are in the management team, how could you not see this issue unfold before kickoff? Matt Doherty could have come on in the second half and made an impact but this selection was a baffler.
Jamie McGrath. I am really baffled on this omission today. McGrath is playing regular football with St. Mirren. Was there fitness issues here? If not, then Jamie McGrath like Andrew Omobamidele must wonder if they are in the management plans going forward. You can see a trend emerge here.
The team's performance was exposed woefully today. The lack of tempo, the lack of pressing and pressure to win back the ball in the opening half was embarrassing. Who on the pitch was leading the side? It looks to me that senior players have accepted that Kenny is a dead man walking. There was a burst of tempo in the second half but only because there was a crowd in attendance.
The lack of tempo in passing, the movement of players to provide an option for the player with the ball, the inability of midfielders out wide to get behind the Azerbaijan defense today was galling. How many times did we see a poor pass going out for a throw in? We saw a foul throw from James McClean. How many times did we see a player take the safe option, not prepared to take on the leadership and deliver a pass of note to test the Azerbaijan defense in behind?
The one thing that is blatantly obvious after today is that you cannot play Aaron Connolly and Troy Parrott in the same side. Both players looked lost in their roles today. Connolly again having moments out wide but failed to deliver any impact in the final third. He wanted to be in Parrott's position.
Connolly hauled off for Daryl Horgan which descended into football nightmares stuff. Parrott looking to impress with an extra touch. No reward as the lack of midfield urgency in passing meant that Azerbaijan were easily able to counteract Parrott. Parrott running at a defense today was the play, it never happened? Why?
Shane Duffy heroic today for Republic of Ireland. He went up top and delivered an equalizer. Adam Idah tried so hard but his work was outside the penalty area. We need a presence in the penalty area. Idah is a work in progress. As Alan Shearer would say, a striker is judged in what they did in the penalty area and there lies the problem? Idah over anxious and chances were spurned, you hope for an international goal for the Cork native soon.
Stephen Kenny and Keith Andrews are now backs against the wall. A loss against Serbia midweek and this is a campaign where Republic of Ireland could conceivably be bottom of the group with three games to go. The caught in no man's land selection today, the miserable statistic of only picking up one point from six points against the mighty Luxembourg and Azerbaijan at home is something that cannot be debated by the management duo.
It has been an awful campaign. The exciting era of Irish football is turning into a nightmare. Players unable to execute the game plan vision of the manager. I fear that a domestic football manager may never get a chance to manage the Republic of Ireland senior side after this Kenny managerial stint is concluded. This is where we are.
This is where we are at ladies and gentlemen! Serbia next week at home could put the final nail in this managerial duo's coffin who will guide the team for the next three games knowing their fate. Given how Serbia brushed past Luxembourg today, Stephen Kenny may need to brace himself for a FAI meeting soon to review the campaign early. We cannot beat Luxembourg or Azerbaijan at home under the current manager and senior squad. This is where we are. How do we get out of the abyss?
These are grave times for anyone connected with the Republic of Ireland side. Our next podcast on Irish Soccer fans should be an interesting listen. The ability to create young players who are technically astute is the key now in local youth soccer, the hope that players good enough can ply their trade in continental football rather than UK. The decline in results in this campaign is not an one off, We should get familiar with this as it will take a few more years to arrest the slide.