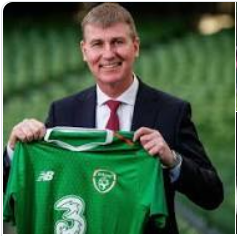 2024 was mentioned for the first time by Stephen Kenny at a spiky press conference today as the ultimate goal to this squad building plan.
We had not heard that before but amazing when a poor result against Azerbaijan will focus minds to the long term game.
Stephen Kenny was on the offensive today. His performance today on media duties was part positive that he is showing passion for the job but then part of me thinking that this guy is losing his cool and composure completely among the media hordes; some of them will hang Kenny out to dry if Serbia produce the goods tomorrow.
I am a Stephen Kenny fan. I admire how he is looking to evolve the way that the Republic of Ireland play their football.
The passing out from the back is admirable but the initial results have not given this vision the impetus or momentum it requires. A fragile squad depth chart under a new ethos of playing have flagged in confidence.
The luck of the Irish has run off to Qatar already with some fixtures deserving more than what was received. The player pool for this football revolution envisioned is simply not there unfortunately.
Stephen Kenny should be allowed to see out this current campaign but he is an employee of the FAI, an organization who quite frankly need sponsorship and corporate deals to stave off the debtors.
The news report of impending financial shortcomings today on the usual newspapers is an indication that FAI board members are feeling under pressure with the fortunes of the senior side flagging. FAI have not done nothing but hinder Stephen Kenny.
The absence of any long term vision on underage setups before Kenny was appointed as national team boss is a damning indictment of this association. The Wembley team talk debacle a new low for the association and undermining the management team in the process. Slovakia and the inability to get seating arrangements correct.
Stephen Kenny will be the first to admit that this international managerial role has been tougher than anticipated. Serbia away a reality check in how in-game tactical decisions can effect a result. Serbia soaked up what Republic of Ireland had to offer and made a tactical switch to put pressure on our flanks for Mitrovic to rule the roost with crosses.
Serbia arrive to the Aviva full of confidence. They took Luxembourg to school at the weekend. 4-1 final score but it could have been six or seven as Serbia's midfield were dominant.
Serbia will look to load up in the midfield area. Serbia might even go three at the back tomorrow night given the lack of perceived firepower that the hosts have to offer. A five man midfield to test Kenny's tactical formation.
We should not expect a miracle tomorrow night but what we want to see is cohesion and tempo in our play, absent from the opening half performance against Azerbaijan. Serbia will soak up Ireland early pressure and when our midfield unit dips in work rate, we will be punished.
My wish tomorrow night is that one of the young strikers gets off the mark tomorrow night. Adam Idah is yearning for an international goal. Callum Robinson will start but I want to see Idah involved if match fit to provide pace and height up top. It could be a tough watch tomorrow night but Stephen Kenny should see out this qualification campaign.
Who would even consider taking this job given the plight of the squad depth currently? FAI don't have two cents to rub off each other. Big Sam need not apply. If we look elsewhere for our next senior manager for 2024, then the search will be difficult at best given the talent depth.
We need a rethink on how we nurture and develop our kids when they play soccer. This is a cultural mindset shift which will take decades to come to fruition. Pressure to get a result in an U12 fixture should be replaced by playing football with skill and enjoyment. Belgium grassroots system is what we should aspire to but will we get resistance from local school boy associations and local district leagues?
Unless this happens, the standard of player produced with an inferior skill set will continue to be exposed. We are now delving into English third tier for players. Something has got to change ladies and gentlemen but it is not a short term fix.
James McClean reckons the media are out to get the side. James, you have seen nothing yet if the side finish bottom of this pool which is a conceivable scenario given form lines and schedule remaining. Baku and Luxembourg road trips look daunting.
Backs against the wall. Siege mentality has descended on this Republic of Ireland camp if this press conference is anything to go by. This should imply a spirited performance.
The Serbia fixture will decide plenty on the long term plan for the national side both managerially and playing squad. Let's hope we get a result but it will take a performance of composure and quality to win this fixture against a well drilled Serbian outfit in form and in the mood!