The World Cup is finally here. Qatar will host the FIFA World Cup and becomes the first Middle Eastern country to hold the prestigious tournament. Hawkeye Sidekick previews the tournament.
This article was tough to write. I did not support the Qatar World Cup tournament bid given their record against their immigrant community, workers welfare and their treatment of the LGBTQ community. However, it is here now so a post was required to acknowledge the tournament instead of the extensive preview of articles that you would typically see from yours truly on a tournament of this stature.
Qatar is located in the Middle East. Qatar is an Islamic country which quite a few media commentators have forgotten and perhaps FIFA delegates when they went for Qatar to host this tournament.
Zero tolerance to narcotics and the topic of alcohol was always going to become an issue given that in Qatar, it is an offense to drink and be drunk in public. FIFA delegates should have read the brief when it came to this point when committing to a contract with Budweiser.
The decision of organisers to ban alcoholic drinks today within stadiums for me was always going to happen. FIFA and Budweiser are left in a contractual bind ahead of the North American / Mexico World Cup in four years time.
There have been flashpoints with foreign media already but Qatar are very protective of their privacy and sensitive to photos and videos captured of construction sites, military, religious and of the general public. QNA permits aside, there will continue to be flashpoints as foreign press look to explore deep into Qatar life and interview immigrants and Qatari locals on their experiences. This should have been no surprise to FIFA delegates or top brass or was it?
The stadiums look impressive. The manner in which these stadiums were constructed is a debate for another day but the attention to detail on these stadia is quite impressive. The manifesto of dismantling some of these stadia after the tournament for sustainability purposes is a bold move.
The Lusail Stadium will be transformed into a community centre with schools, shops, cafes, sport facilities and health clinics. An admirable aim but we have such promises before in previous tournaments fall by the wayside. Qatar will need be a pioneer for how tournament legacy is for the benefit of all the people living in the country. The jury is out on this aspirational goal.
What am I expecting from this World Cup? The tournament schedule will be interesting. Qatar is three hours ahead of Greenwich Mean Time so the 10am GMT games will be a massive challenge for teams not suited to the blistering hot conditions to cope. Yes, there will be air conditioning but the stadiums will be humid given the air conditioning and heat generated from the sunny days.
I am expecting goalkeepers to have a hard time coping with the stadium conditions given the moisture in the stadiums. This should be a very high scoring tournament and expect surprises from the group phases here particularly countries familiar with the conditions coming to the fore.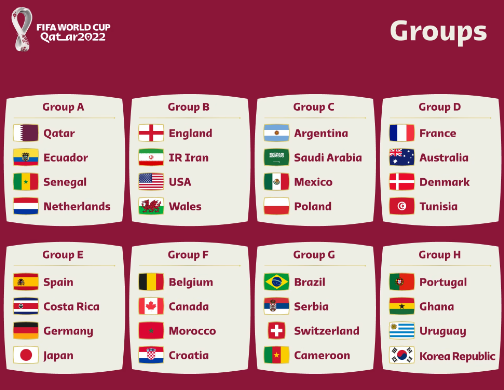 Qatar's Royal Family demanded that Qatar play Ecuador on the Sunday, November 20th opening fixture slot. Fixture schedules were promptly switched. I have not personally seen anything like that before. FIFA bowing to every ask from their hosts. It will never happen again mind you and hard lessons will be learned from FIFA after this tournament. Coca-Cola will be ecstatic but Budweiser look primed for a lengthy legal battle on loss of earnings from this tournament.
Group A looks a routine group for Louis van Gaal's Netherlands. They should top the group but the intriguing subplot is who else will advance from the group. Sadio Mane misses out on the tournament for Senegal which is a big blow but the side do have Koulibaly, Mendy, Sarr. Ecuador and Qatar's opening game will decide who from these two side will represent the biggest challenge for Senegal to advance to the second round.
Group B has a few geopolitical firecracker fixtures. England, Iran and USA along with Wales are grouped together. I am utterly unconvinced by England and their form leading into this tournament. Kane will be asked to lead the line and score goals but defensively there are flaws. Trent Alexander-Arnold will provide attacking width but defensively opposition will look to exploit his positioning. Iran under Carlos Queiroz will look to soak up England pressure and deliver spurs of pressure on the counter attack.
Wales will rely heavily on Gareth Bale who has yet to provide clear evidence of being fully match fit. Wales defensively could be exposed particularly if Joe Allen does not feature. USA could be the surprise packet here. Plenty of young talent in an attacking sense like Pulisic and Sargent. England should win the group but I think this could be tricky early for Gareth Southgate and his side.
Group C sees Argentina looking to Lionel Messi to inspire his nation to tournament glory. Argentina on paper have quality attacking options but the questions around their defensive shape will be answered quickly with Poland and Mexico in their group.
Saudi Arabia and their familiarity to the weather conditions may provide stubborn opposition. Poland have underperformed in previous tournaments so Robert Lewandowski will be asked to lead from the front. Mexico before a World Cup tournament are always an unknown quantity but Jimenez, Gutiérrez and Ochoa will need to be on form as their preparation has been a mixed bag.
Group D will see if France are a harmonious camp or a squad who cannot wait to leave Qatar. France have Australia, Denmark and Tunisia for company. France and Tunisia may take a life of its own and I would not be surprised if Tunisia secured at least a point here. Denmark on paper should join France in the last sixteen but Australia will be well organised albeit questions on final third quality remain here.
Group E looks interesting. Germany and Spain lock horns early to test out tournament credentials and they have Japan and Costa Rica for company. Japan's form guide look mixed. Costa Rica look like this could be a step too far in the tournament. All eyes will be on the European giants in the group. Spain's passing style under Luis Enrique and more experience in the squad from the Euros for me has the Spanish side as one of the favourites to win this competition. Germany will advance to the second round but I do wonder on their squad depth here. Muller or bust upfront.
Group F sees Belgium, Croatia, Canada and Morocco paired together. Belgium's golden generation time window is short now and this tournament conceivably could be the last tournament where success may come. We know Belgium has several world class individuals but when sides have applied pressure, the side have buckled in closing stages of tournaments. De Bruyne obviously a key man but Croatia will test Belgium out early.
Croatia runners up in the previous tournament will look to impress and they should have enough to advance along with Belgium provided Canada do not turn up the form book. Canada have a standout player in Davies but questions on squad depth is a concern. Morocco will hope that the conditions provide a leveler to some pretty daunting matchups.
Group G is a tricky pool to assess. Switzerland always come and perform at these tournaments. Serbia are a team primed for an extended run in the tournament and then you have Brazil whose squad is interesting to say the least. No abundance of talent in the final third but it is the service to the likes of Neymar which could prove problematic. Is there enough legs in midfield for Brazil to advance?
A big nation is packing their bags early. Cameroon traditionally love causing upsets in a World Cup and they add an intriguing element to this group. A must watch group. I think Brazil may be under pressure here to advance to the second round.
Group H sees Cristiano Ronaldo fresh from his pupil / principal school interview with Piers Morgan looking to provide suitors with plenty of reasons to sign the player come January. Portugal and their squad morale looked good against Nigeria but how will Ronaldo integrate with the squad given his media outburst.
Ghana, Uruguay and Korea Republic should be a nice group for Portugal to ease into the last sixteen. Uruguay look like a dark horse given their squad depth. Their attacking options and defensive shape will be a threat for anyone. Suarez and Nunez along with Cavani will create chances.
Korea Republic will depend on Son-Heung Min but the form has been patchy coming into this. Ghana will be competitive and the Ayew brothers will be asked to deliver the attacking threat here. I can't see though past Portugal and Uruguay here.
Qatar are ready to host this tournament. The organisers have the opportunity to deliver an exciting tournament despite what media commentators will say. The human rights angle will be conveyed no doubt during goal celebrations or team press conferences but this is a World Cup, the pinnacle of world football. It is time to see what Qatar can deliver and show why they spent 200 billion plus to stage this event.
First Round Tips
Group A: Netherlands, Senegal
Group B: England, USA
Group C: Argentina, Poland (nervy choice)
Group D: France, Denmark
Group E: Spain, Germany
Group F: Belgium, Croatia
Group G: Serbia, Brazil (nervy choice)
Group H: Portugal, Uruguay.