The Scarlets rode into Dublin for a second consecutive weekend and smashed the hopes of another Irish province to ride off with a thoroughly deserved Guinness Pro 12 final win. Hawkeye Sidekick reflects on the action.
Munster have no complaints on this result. Games are won in the early days of match week with video analysis and preparation paramount and the Welsh region identified the mismatches (that there was many) and executed with accuracy; something that Munster could not achieve in front of a predominant Munster crowd who started with great optimism descended into stunned silence and unfortunately saw quite a few fans walk for the exits well before Scarlets got their hands on the league trophy. Disappointing.
The Irish province started the contest with gusto; forward pack exchanges looked promising as Tyler Bleyendaal slotted over an early penalty. However, this was as good as it got for Munster as Scarlets started to impose their expansive running game and breakdown dominance culminating in the opening try.
Munster were extremely slow off the blocks in their semi-final win but the Ospreys failed to put points on the board. Scarlets identified Munster's narrow defensive shape and exploited gaps out wide at will.
It was a stunning opening try. Patchell in the pocket producing a deft diagonal kick resulting in Liam Williams to easily outstrip Keith Earls for pace and the first try. The conversion was missed but the alarm bells were ringing for Munster.
Finals are decided by the team who are more precise and do not cough up ball in their own half. Munster were guilty on both charges. The three quarter channel was a constant thorn in Munster's side all day and the decision of Francis Saili to chase out of the line had devastating effects; did nothing out of the line culminating in Stef Evans striding after impressive offloading by Jonathan Davies. It was a superb line break, a quick fire second try and Munster were collapsing at a rate of knots.
The third try was the end product of a shell-shocked Munster making several defensive misreads. Yes, Scarlets players were perhaps borderline infringing but Munster were buying the dummy runner at every turn. The ball went to Gareth Davies (50/50 forward pass) but the missed tackle from Munster before Davies went over summed everything up in the final; second best.
Tadhg Beirne had a sensational display. The former Leinster second row produced an all action display which must raise questions why Beirne is not even being considered for national selection. Beirne's try was full of rigor and spoke volumes about the Scarlets performances; they were walking all over Munster as Beirne went through several abject tackles from close range to score.
All over before the interval and despite Bleyendaal's late try before the break, the Aviva Stadium knew the writing was on the wall. 29-10. A performance full of expansive style and poise from the Welsh region. Munster were a well beaten unit.
Munster will be devastated on the performance produced. The side froze badly on the big stage again. The Aviva jinx continues (four losses in a row) and it was a mirror image of their heavy loss to Glasgow Warriors at this stage of the competition a couple of years ago. Defensively loose. Set piece and general skill set were well below par.
Munster leaders were struggling to gain parity, the breakdown area was a no contest as James Davies controlled but the kicking game of Munster was abject. Ponderous kicking, poor exit strategy giving Scarlets excellent ball to launch attacking threats from deep. Even the presence of Niebaner in the opening period (water boy duties) to try and calm the situation did not work. Munster players heads were gone. No composure, zero poise. Video analysis nightmares 101 this week to sign off on the season.
Neutrals would have liked to see Munster score again early in the second half but Scarlets responded emphatically with a well worked try once more, exposing massive defensive gaps in the three quarter channel. DTH strode for a try with several line runners around the Canadian. Munster defense would be kind.
Yes, Munster fought til the end with tries from Conway and an intercept try from Earls but Scarlets were scoring at will and finished the scoring with James Davies, a dominant player in the breakdown and open exchanges capitalizing on indecisive play from Keatley (drubber kick blocked) and outpacing Munster defensive attempts for the try. 46-22 score was an accurate reflection on the proceedings.
Scarlets continue the vain of Pro 12 Champions who have deployed an excellent brand of rugby; superb offloading, line running and uncompromising defensoe. Their victory in Thomond Park last March was the warning shot for the rest of the league; Scarlets never looked back after this display. Superb performances all over the park. The pack was efficient and compensated superbly without Owens and Ball. Lee, Evans and Beirne immaculate. The back row was supreme; exposing Munster's back row pace issues and dominating the breakdown area. O'Donnell had not a prayer. Stander and O'Mahoney were nullified.
The half-back partnership of Davies and Patchell has grown in recent months. Their game management and exit strategy was on point and they were identifying the right mismatches throughout. The Scarlets back line had the proverbial field day; an imploding Munster defense and breakdown in communication was creating endless scoring opportunities which were clinically taken. All the back line, take a bow. A superb masterclass in identifying space and execution. Worthy champions. Well done Scarlets!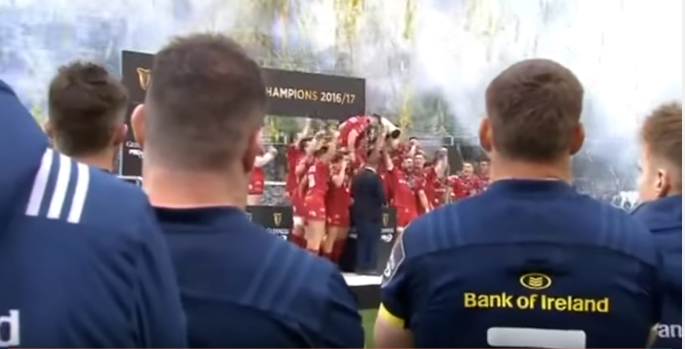 Munster have learned the hard way that there is still plenty of work required to scale to the summit. Saracens (defensive nous) and now Scarlets (attacking precision) have exposed limited game plans and the lack of defensive shape and communication was most unexpected yesterday.
Was Rory Scannell fit? He looked to be limping early doors and was not sharp in defensive work. Saili with his colleague struggling was trying to force defensive turnovers but it only caused more problems for Munster.
As mentioned earlier, Ospreys failed to punish Munster on the scoreboard last weekend particularly in that opening half. Scarlets, a team full of confidence and gusto did. A summer of reflection for Munster management; a season of progress but weak points and composure at the business end of the season was ruthlessly exposed by better opposition. A draining season for Munster perhaps caught up with some players but it looked like the final occasion overtook a couple of players on show. Disappointing finish but the better side prevailed. Well done Scarlets! Roll on 2017-18 Pro 12 season.