Cork have reached the summit of Munster Hurling. A glorious afternoon in Semple Stadium, Thurles yesterday as the Rebel County took the minor and senior titles. The five point victory for the senior side confirmed to anyone who was skeptical about past performances that this team are the real deal. Hawkeye Sidekick charts the Rebel rise to provincial glory.
Management buy-in
Massive credit must go to the Cork management and backroom staff this season. The transformation in the side from last season has being hugely impressive. All facets of play have reached high levels and with clear improvements in the speed, pace and conditioning of the playing panel; management have made the right calls.
The NHL season was a mixed bag but Cork management used the league to experiment and give all panel players sufficient game time. The league wins over Clare and Tipperary were warnings to everyone on the potential in the ranks and something that many pundits failed to take into account when the Munster SHC season commenced perhaps caused by an underwhelming performance to Limerick in the quarter-final stage.
The decision to pick untried but in form youngsters in the starting lineup was a brave move, even more so when you consider that their opening round championship fixture was against reigning All Ireland SHC Champions Tipperary in Thurles. However, Kingston and management held their nerve and gave debuts to the likes of Coleman, Fitzgibbon and Shane Kingston. The results speak for themselves.
The high level coaching and sophisticated game plan deployed by Cork in the championship has being sublime; exciting to watch with pace, movement and first touch keys to success. The running lines and movement off the ball are all on point; this takes hours and hours of hard work on the training ground.
Puckout Strategy
Nash in goal has provided excellent puck-out distribution throughout the championship. The Kanturk man was lights out in his distribution to his half-forward lineagainst Tipperary. Waterford and  attempted to close off this angle but Nash was able to adjust the game plan as required identifying avenues for his full back line to exploit and hitting his midfield with accurate fast ball. Primary platform for Cork to create scoring opportunities; opposition are caught in no man's land. To push up, leaves space for the Cork forward line. To retreat, means that Cork's running game will create opportunities. Nash's has being paramount to the Cork improvements this season.
Full Back Line Upgrade
The Cork full back line unit performance this season has being a revelation. Damien Cahalane at full back is a different player to the one that featured last season. The confidence that Cahalane oozed yesterday at the end when he marched down the field and calmly distributed to his forward line deep into the second half showed leadership, class and a player who was playing at the height of his powers. His man marking and command of his unit has improved so much so that Anthony Nash has not being called on to rescue the side on a regular basis. Diarmuid O'Sullivan must be credited with the turnaround to an unit which was a soft spot in the past; the decisive decision making from McDonnell, Cahalane and Spillane has being to the fore in this championship. Their tight marking and ability to support their colleague with blocks and hooks has being standout. Conor McGrath had to venture into the half forward line to get any joy yesterday; a testament to the Cork full back line play on display.
Half Back Line Supremacy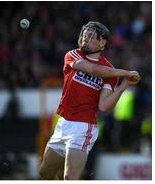 Every All Ireland Senior Hurling winning side has had a magnificently dominant half back line to call upon to lead their team to victory. Cork's half back line of Joyce, Ellis and Coleman has come to fore this season. The plaudits of the media pundits has gone to Mark Coleman; the Blarney man has had a dream rookie season but he has being assisted massively by the performances of Mark Ellis and Christopher Joyce whose game management and tactical nous has really provided Cork with such a solid platform. Coleman has everything in the locker, glorious first touch and ability to game read a situation instantly. His distribution from the back was excellent yesterday and is a dream for the inside Cork forward line. Coleman's sideline cuts are imperious and another sensational score yesterday emphasized the fact. Ellis is a most underrated half back and his game management at half-back provides the license for Coleman and Joyce to express themselves up the pitch. Joyce is aggressive, abrasive in the tackle and dominant in the air like his other half-back colleagues. His work rate and tempo sets the tone for others to follow. No weak link in this half-back unit.
Midfield Efficiency
Bill Cooper and rookie Darragh Fitzgibbon came into this championship as an unknown partnership but in mid-July, it is an entirely different story. Cooper's work rate and tempo has being superb this season. The Youghal clubman does the basics so well; his distribution, his appreciation of his defensive duties to snuff out attacks has being on point and has allowed Charleville native Fitzgibbon to use his electric pace to make lung bursting runs from deep from the midfield position.
Fitzgibbon has added another dimension to Cork's attacking play. His ability to setup scoring opportunities due to his pace and speed causing opposition to foul him has allowed Pa Horgan to keep the scoreboard ticking over. The running lines adopted by Fitzgibbon is a common theme within the Cork ranks; yesterday yet again demonstrated the excellent options at the disposal for a Cork player in possession. He had two to three options to pass the ball to and Clare did not know which player to track as a result. Look the free count inside the Clare 45 meter line and the manner in which the frees were conceded to emphasize the point.
Half Forward Line
The first touch of this Cork hurling side is a joy to watch at times; their ability to execute the basics in such an efficient and effective manner has being noted particularly in the half forward line where the unit have improved their first ball winning percentage (thanks to Nash's puckout strategy) but their ability to pick scores from distance.
Lehane has being a standout this season; his ability to roam, win ball and strike inspirational scores from distance have being sensational. Shane Kingston in his rookie season has chipped in with several key scores per game. Kingston's running lines and pace adds more dimension and options to a Cork forward line with massive potential and talent.
Seamus Harnedy then provides assurance and composure for Cork in his distribution and the St. Ita's man is always guaranteed to have a couple of scores to his name come the final whistle. A potent line which benefits from quality work of their back and midfield lines; this unit has provided key scores when required to stave off any shifts in game day momentum to their opponents.
Lethal Full Forward Line
What makes a genuinely good full forward line? Work rate, speed, eye for a score and physical stature in and around the square. Tick. Tick. Tick. The line of Alan Cadogan, Pa Horgan and Luke Meade has all the aforementioned traits with abundance. Cadogan was a revelation yesterday in open play; left Oisin O'Brien in his wake for the Cork goal and chipped in with several quality points from distance.
Horgan exceeded Christy Ring's championship pointing record; what an achievement. The Glen Rovers man is lights out on the frees but his trademark over the shoulder score has being seen to full effect this season. Luke Meade is a total speed merchant and is due a serious scoring haul in this championship. The work rate of the unit without the ball has improved drastically this season. Pa Horgan led by example, albeit lucky to stay on the pitch after his high hit on O'Connor in the opening half. The tone was set for Cork's inside full forward line in terms of work rate thereafter and the unit contributed key scores at the end to secure the provincial crown.
The Concern: Five Week Layoff
Kieran Kingston was quick to highlight the under-performance against Tipperary in the 2014 All Ireland Semi-Final when Cork failed to fire. This is the key issue for Cork now in the championship. How do they manage the layoff while other teams keep themselves sharp with qualifier and quarter final games? A magnificent Munster final victory. Cork are back at the top table of hurling. An excellent team is required to stop Cork in the last four of the competition. Several standouts this season and they are well placed to stake viable claims for Liam McCarthy honors come September provided the players stay on point after this final success. Well done Cork!