That would be catastrophic, 85 per cent of our income comes form hosting men's international games at Twickenham.

RFU Chief Executive: Bill Sweeney (May 5th, 2020)
These are most uncertain times in professional sports across the globe. The Covid-19 pandemic has stopped sporting fixtures (individual and team) in their tracks and sporting bodies are now feeling the pinch.
We have seen how the German Bundesliga are desperately trying to resurrect their domestic season despite the second pandemic wave in the country. Failure to resume the season would mean financial catastrophe for many clubs in the country.
https://www.forbes.com/sites/manuelveth/2020/04/06/13-of-36-bundesliga-clubs-face-financial-problems-bayern-munich-resumes-practice/#438d2fbf69a7
Other team based leagues will be keen observers to see how the season resumption in Germany is handled but if it is a success, then team based sports across the globe can look to identify protocols to get fixtures back up and running.
This blog post will look at the IRFU (Irish Rugby Football Union) and review recent financial report numbers to get an indication of the numbers and how this pandemic will have eroded revenue streams in the process this season.
As RFU Chief Executive Bill Sweeney stated in evidence to the UK Parliament's Digital, Culture, Media and Sport committee on Tuesday this will take four to six years to recover. IRFU are in truth facing the same predicament. Hawkeye Sidekick explains more.
Revenue Streams
I heard the esteemed rugby analysis Donal Lenihan speak on Morning Ireland during the week. The Cork native mentioned the loss in match day earnings and cited that the Italian RBS 6 Nations home fixture netted circa eight million euro alone. He was on the money as always!
As you can see from the revenue streams, the main income earner for the association is representative matches. The match day ticket sales, hospitality receipts and of course television broadcast money.
The prize money would also come into this bracket but this naturally fluctuates given the senior team's performances. We are talking about income of around 87 million euro here so you can start to see how detrimental the lack of representative matches will be for the association this year.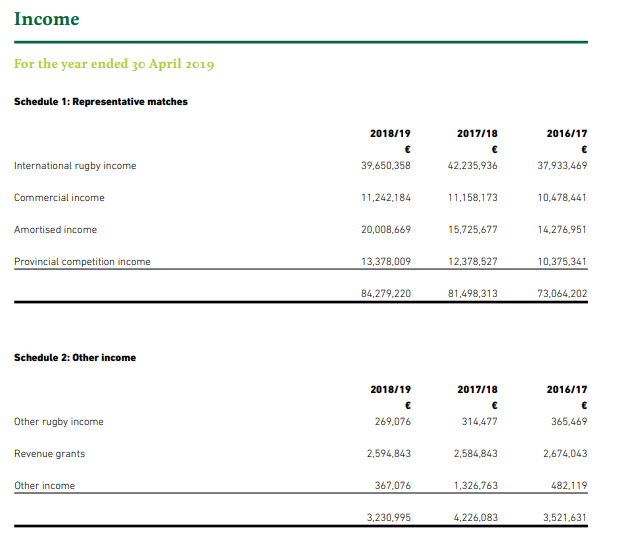 Expenditure
The expenditure for the association is an interesting read. The professional and player development make up 56 million euro of the 84 million total as one would expect. Our professional teams and refining the talent pool go hand in hand to generate success on the field as well as increasing match day revenue streams and identifying new merchandising opportunities.
Games support costs is essentially referee costs. One would hope that the likes of Frank Murphy, Andrew Brace and Joy Neville to name but a few will continue their upward progression through the international referee ranks. and increase their profile in the international test match arena.
Expenditure on domestic and community rugby increased by over €0.6m between 2017-18 and 2018-19 seasons. This included the cost of holding the U18 inter provincial championship which has proven successful in identifying homegrown and NIQ players to represent the country.
Marketing and communications costs increased by €0.15 million during this time period but it resulted in increased revenues from corporate box sales (ends justifies the means ethos there).
In administration and overheads, staff costs increased by €0.5m due to additional staff in the areas of technology, data protection (GPDR) and human resources.
Final Numbers
The one thing that jumps out of this 2018 / 19 report is the exceptional income figure. 24 million euro from the sale of land by the IRFU is a big figure and given the hard times now endured this year, it was an opportune income earner.
The surplus for 2018 / 19 season was a solid showing but 2019 / 2020 will be a different ball game. The lack of gate receipts, commercial activity during Q1 and Q2 in the lead up to professional team fixtures will hurt the balance sheet no end when the new financial accounts will be unveiled.
How does IRFU look to recover?
The expert opinion is that Rugby Union fixtures will not take place for quite some time. One school of thought is next October but then you have the other camp who state that team sports cannot go ahead until a vaccine is found for this pandemic which could be 2021, 2022 or even 2023.
Whenever team sport and in this case rugby union gets back playing, it will probably do so with empty stadiums, empty corporate and hospitality boxes. Only TV stream revenues (if sustained at current levels) and prize money from tournament play will form the backbone of revenue streams.
There is no good way of saying this but the IRFU like other rugby union organization predicament is quite grave at present. The IRFU surplus accrued last year is welcome but it is an one off. This level of investment is unsustainable long term and radical changes will be required to safeguard the association.
Govt Involvement: The IRFU are going to have to make a pitch to the Irish government for a loan or scheme to get the association financial stable. Tax concession rebate? Additional grants and loans?
Furlough: The furlough topic may become more a discussion point from an admin side of the organization with each passing month of inactivity.
Salary Reductions: The players on central and provincial contracts may be required to take pay cuts and perhaps forego contract bonuses. This would include admin side of the association as well.
Provincial consolidation: Controversial but could IRFU look to consolidate playing squads and professional teams short term?
How will infrastructure projects particularly in Munster Rugby and Connacht Rugby be impacted by the impact of this pandemic? Lofty plans to build a state of the art facility in Galway but will funding backers continue to commit to the project. Further development plans in Munster Rugby down in Cork as well could be impacted.
Reduce programme and elite player development: The Spirit initiative hopefully is not undermined but if funds are required to safeguard the organization then this looks an ominous reduction area.
The elite player development will be a source of conjecture. The Women's game funding was reduced in recent years but I fear more cuts here as the organization continues to weigh what expenditure should be allocated to the playing side of the game. This is not to say that other parts of the game and player development will not be impacted; they surely will particularly in the men's side of the game but it will be an interesting assessment to see where the organization focus hones in on here.
Corporate box sales can be considered in the short term and long term plan brackets. The Irish economy will take time to recover after this pandemic. The corporate box angle for some may be an expense too far for the short term box holders and ultimately hospitality sales will drop.
Ticket sales may need to be adjusted to get people through the turnstiles if and when the green light for fixtures with crowds is granted – popularity in the sport should hold steady but an option.
The role of the grassroots club to the IRFU becomes more and more in focus. The relationship between professional game vs. grassroots has being strained in recent seasons but IRFU HQ could use this opportunity to bridge the gap and cultivate more resources to the grassroots.
The local clubs may play a vital role in the resumption of fixtures with supporters. IRFU could use local club fixtures to test out any protocol procedures using small crowd numbers before looking to take this further to provincial fixtures. The local club has a vital role to play in the resumption of team sports across all codes. Rugby Union is no different.
As Bill Sweeney from the RFU has stated, it will take years for professional sporting organizations to recover from this pandemic. The commercial side of sport is being relentlessly destroyed at present and with no end in sight, professional sporting teams are going to hit the wall without government intervention.
The government may not want to hear this but sporting organizations and their personnel will continue to require assistance and support well after this pandemic is brought under control. The time for IRFU is now to solicit the powers that be to safeguard the union, its staff and players.
Full IRFU 2018 / 2019 Financial Report:
https://d2cx26qpfwuhvu.cloudfront.net/irfu/wp-content/uploads/2019/07/18104921/IRFU_AnnualReport_1819.pdf