The debrief from Andy Farrell and backroom staff to the Ireland playing squad will be much easier after yesterday's 32-18 triumph over England yesterday at the Aviva Stadium. A performance which provided evidence that when this side are on top form, they are a match for anyone. Hawkeye Sidekick reflects on the tournament from Ireland's perspective.
Opening round loss to Wales
The test match (21-16 loss) was ultimately decided on that Peter O'Mahony red card early. Ireland manfully stuck to the task and had their moments in the second and third quarters with some excellent passages of play. Wales though (as they did for long portions of the tournament) executed in attack when required to create a game winning margin.
Billy Burns was given a baptism in test match rugby but the manner in which the side protected the player postgame was superb to see. A gallant loss, not what the Irish side were looking for but nonetheless, the effort and application was on point despite the red card.
Defensive misreads and misfiring attack against France
A hugely frustrating home loss (13-15) to France who provided opportunities to Ireland at regular stages. That opening minute were Ireland had an overlap after turning over French lineout ball and decided to kick possession away was indicative of an attacking game plan in a state of flux and a game plan still with remnants of the Joe Schmidt era.
The French tries were soft scores; defensive misreads and missed tackles punished but Ireland again refused to give up. A narrow loss and pressure was starting to intensify on Andy Farrell and management.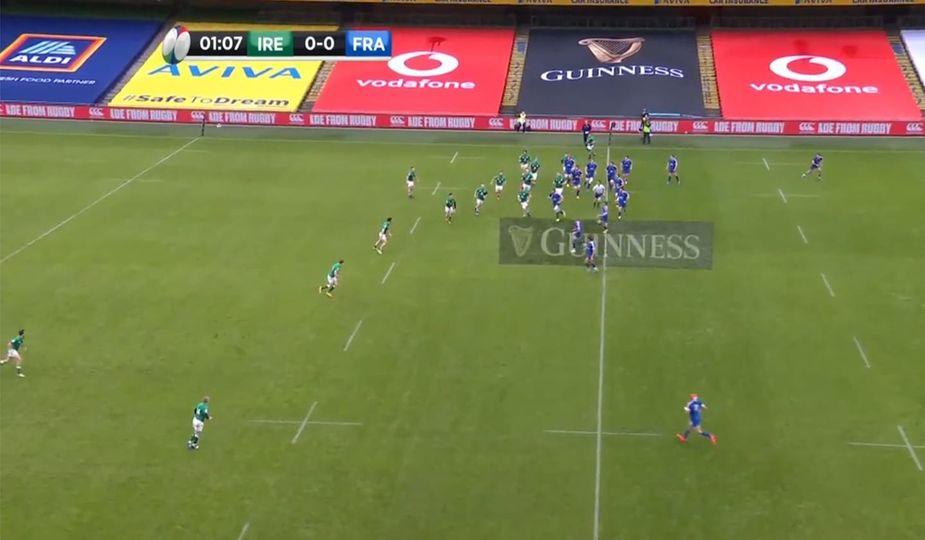 Rome romp
Ireland faced into the Italian test match with questions to answer particularly in the attacking side of the ball. 10-48 score line certainly answered some of those open points with several superb tries; offloading and running lines excellent. Italy had given England plenty in the previous round of fixtures so how Ireland closed out the game early in this test match boded well for the rest of the tournament. Tadhg Beirne immense in this fixture along with Keith Earls.
Murrayfield thriller
A week on, I am still unsure how Scotland got back into this test match. 10-24 up into the third quarter, Ireland were in control. Robbie Henshaw and the Ireland pack dominating affairs. Sexton controlling affairs at half-back with Gibson-Park.
Defensive misreads and tackles were exposed as Scotland went for broke. Hogg and Jones prominent. 24-24 and cue Ryan Baird to make a superb contribution off the bench, winning the penalty against Price deep in Scotland territory.
Sexton with a difficult kick from the touchline nailed the conversion and Ireland won the test match 24-27. The performance was inconsistent in that final quarter but Ireland showed composure to secure the win finally. Tadhg Beirne awarded man of the match again but the performance of Robbie Henshaw at three quarters was telling too.
CJ Stander farewell test match to remember
32-18. Ireland produced their best performance of the campaign to beat England. Keith Earls outstanding again. Robbie Henshaw providing key cameos throughout. Jack Conan emerging as the number eight successor to CJ Stander.
There was so much to admire from Ireland in this game; attacking variation, defensively resolute when required, the set piece again prominent. The lineout a source of huge concern for Ireland heading into this tournament was now a reliable source of front foot ball (ask Scotland's Turner from the previous week). A marquee win for Andy Farrell, backroom staff and Ireland squad. A proper sendoff to CJ Stander in the process!
What have we learned?
Keenan solid as a rock
Hugo Keenan was rock solid for Ireland at full-back and the side have a Rob Kearney successor. An excellent tournament from Keenan whose attacking play improved with each fixture played.
Keith Earls is the man!
Do not write off Keith Earls. A good Twitter follower of mine reminded me last night of my comments immediately after the opening round Welsh loss where Keith Earls (in my eyes) struggled (more so because of lack of game time preceding this match). I was concerned given the back three talent pool in the squad at the time that Earls could be dropped permanently.
Keith Earls regrouped and produced some stunning performances against Italy, Scotland and England yesterday. Earls' movement and overall play at the back end of this tournament were simply stunning. I am delighted. Earls delivered yet again! I can eat my words on Earls post the Welsh game (first and last time). Earls is the man!
No Sexton successor in sight
We still do not have a bona-fide successor for Sexton at half-back. Burns had two cameos which have not set the world alight. Ross Byrne appears to be ahead of Burns with some solid cameos in this tournament.
Joey Carbery and the sight of the player creating line breaks against Scarlets two weeks ago will be a tonic for Andy Farrell. Carbery surely will be back into the squad soon. Jack Carty's absence continues to be a baffler, has played well this season for Connacht Rugby. The ten jersey this time next year needs a succession plan.
Gibson-Park provides competition for Murray (good news)
Jamison Gibson-Park provided good cameos in this tournament. His fast play from the ruck area was standout and he is pushing Conor Murray for the starting berth (good news). The sight of Craig Casey making his international debut against Italy was superb too, a player who has a long and prosperous test match career in front of him.
Young guns impress, exciting times for Ireland
Ryan Baird's emergence to the squad was noteworthy. An athletic phenom. When you consider Thomas Ahern at Munster Rugby, these are guys who will provide size and physicality in the pack for many years to come. I am excited about the conveyor belt of talent coming through. Farrell must be applauded for bringing in Baird, O'Toole and Casey into the setup.
Lowe defensive work regroup required
James Lowe has defensive work to focus on after this tournament. His booming clearances and attacking play are key positives but test match level is forgiving when defensive misreads or tackles go pear shaped. Lowe was exposed during this tournament. The defensive scheme under a new coach was a factor but Lowe must work hard on the defensive of the ball, otherwise his test match career may be over before it starts!
Beirne sensational
Tadhg Beirne was immense during this tournament. His back row and second row performances nothing short of sensational. A superb all rounder. He provided line out platform whilst winning turnover ball at the breakdown throughout the campaign, also scoring tries and hard running lines. A certainty for the British & Irish Lions tour!
Henshaw in the form of his career
Robbie Henshaw is playing incredible rugby at this time. His all round game is so good right now. His ability to defend and attacking with intent to the fore. His performance yesterday against England in the opening quarter should be shown to any young lad playing the three quarter position; look how he effected the game with key defensive work / turnovers and then his attacking threat. Outstanding performer.
Farewell CJ!
CJ Stander leaves the Ireland setup; his legacy is beyond reproach. A player who embodies the definition of project player. A player who committed to the Munster Rugby and Ireland cause completely. A player who galvanized and supported colleague so well either in training or game day. A player who has left a lasting impression on everyone in Ireland! Best wishes CJ and family!
Farrell evolving but must pick hard squad decisions soon
Andy Farrell can look back on this campaign with some satisfaction given how the end of the tournament unfolded. The attacking game plan yesterday against England provides optimism that the team can produce standout attacking moments. The fly-half succession decision needs to be made now given Sexton potentially not featuring in RWC 2023. The names are identified, it is now time to identify the succession and depth chart now. Other player decisions will be required next year in order for Ireland to have the best possible chance of advancing deep into that tournament. The emergence of youthful talent cannot be overlooked. A key twelve months lies ahead for Farrell and backroom staff.