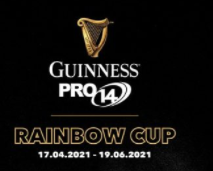 This Rainbow Cup tournament. It has been a slow burn not helped by the pandemic situation but the competition is picking up much needed momentum boosted by the news that North and South table toppers will meet in a grand final on June 19th.
Amid this backdrop, the scene was set for Munster Rugby to consolidate at the top of the Rainbow Cup North standings and send a clear message of intent to the chasing pack.
However, what unfolded has actually added more spice to this tournament as Connacht Rugby deservedly won the fixture 20-24. Hawkeye Sidekick reflects on a night in Thomond Park where shortcomings in Munster Rugby's game came back to haunt the side and management.
The odds before kickoff had Munster Rugby as very overwhelming favorites which was quite odd given the close margin between the two sides in recent meetings. Connacht Rugby always rise up to Munster Rugby and given their heavy loss to Leinster Rugby in round two, Munster Rugby and bookies should have been wary of a response.
The nice early summer sunshine in the West of Ireland evaporated midafternoon and Thomond Park became wet and damp with even more focus on basic skill set and game management. Connacht Rugby on paper had a dynamic and mobile starting lineup and they started with purpose.
An early penalty from Conor Fitzgerald stirred Munster Rugby into life and James Cronin touched down after several attritional pack intensive phases close to the Connacht Rugby line. Cue the response from Connacht Rugby and it was video analysis from Munster Rugby.
The restart from Connacht Rugby posed the question. Billy Holland jumping in the air with John Ryan supporting him but the restart was blotched. Shane Daly then came into focus to cleanup the restart mess but his fumble was seized upon by Sammy Arnold who crashed over. It was such a soft score, players switching off at vital moments. Daly will be tested by opposition on restarts after this try concession. A complete and utter system malfunction.
The try was no more than Connacht Rugby deserved and things got better for the western province soon after. An attacking opportunity just inside Munster Rugby's 22 and Marmion orchestrated the move beautifully. The scrum half changing the focal point of attack and negating Munster Rugby's defensive lynchpins.
Fitzgerald's running line was on point and de Allende who was sucked in defensively from a Connacht Rugby dummy runner could not make up the ground to prevent the try. 7-17. Connacht Rugby executing their skill set well while Munster Rugby were fumbling to find rhythm and tempo in their play.
The one thing you cannot say about Munster Rugby is their lack of effort and application. They gave themselves a chance to secure a foothold in the game when the Munster Rugby pack rumbled over for a second try to close the margin to three points. 14-17 at the interval. Munster Rugby perhaps fortunate to be only three points down at the break.
The expectation was that Munster Rugby would come out and play with more accuracy but they gave Connacht Rugby a decisive score straight after the interval. The Marmion try highlighted so many things wrong with this Munster Rugby performance; the lack of options for Craig Casey to pass to, the pass is misplaced but the attacking lines were non-existent.
The ball was hacked on which then prompts the second question for Munster Rugby. Where was the cover defense? Ben Healy was easily thrown out of the way by Connacht Rugby but there was zero cover from Munster Rugby. Marmion took the score superbly well, impressed again at nine. Why Healy decided to go to ground while Marmion was grounding the ball is a mystery?
Cue a fracas and this was one of several incidents which the officiating crew were incapable of dealing with. For the officiating crew, the video review will be a painful watch.
Dan Jones lost this game early and this fixture started to get more edgy. The breakdown and ruck area were unbelievably messy. Players on the wrong side, sealing off, players coming from the side. Jones was lost and his officiating crew which he needed to provide guidance went missing.
Munster Rugby will rue key decisions which did not go their way. The TMO was supposed to correct these sort of decisions but unfortunately yet again, the major calls and the communication was indecisive.
When you compound it with reviews on incidents which are not incidents, there is a genuine concern about how these games are being officiated and conveyed to the sporting public.
The team challenge is not working for me personally. The end of the game was farcical as Munster Rugby clung on to faint hopes that the knock on would be overruled.
Connacht Rugby deservedly won last night. Their defensive performance in that second half was superb and to a man, they dominated. Key turnover ball events in that last quarter where I thought Tom Daly and Niall Murray were outstanding and came into their own.
Munster Rugby given a massive reality check here. The skill set issues which for me have been a recurring issue of this side reared its head in a vital fixture. The lack of composure arising from poor execution and cohesion. There are little excuses for this performance. The wet conditions perhaps a factor but Connacht Rugby were the better skilled side.
Without basic skill set execution, attacking game plans can be thrown out the window. This squad core has shown plenty of application but the skill set and game management are still big issues. Munster Rugby may win their remaining fixtures but the ghosts of the past for this playing group came back to bite last night.
For management, soul searching is required. The attacking game plan is in a state of flux. The players resorted back to prototype – kick / chase and down the middle with lack of width predominantly. The mindset of the team needs to change from top to bottom. How the side produce players of improved skill set is the challenge here?
Connacht Rugby have given themselves a huge boost. The season was in danger of ebbing to a slow painful conclusion but the side now have key fixtures against high flying Benetton Rugby (classic beckons) and Ospreys back at the Sportsground to finish out the league phase of this competition.
Connacht Rugby have given themselves a huge boost. The season was in danger of ebbing to a slow painful conclusion but the side now have key fixtures against high flying Benetton Rugby (classic beckons) and Ospreys back at the Sportsground to finish out the league phase of this competition.
Andy Friend's charges will need to secure full points here and hope results go their way but last night is the template to take into next season.
The consistency issues have been there this season for Connacht Rugby. When they are on it, they are more than capable of beating anyone but when they are not, they struggle massively. A second win at Thomond Park since 1986, it is a sort of win which can provide more impetus to the team programme.