This is a fascinating championship fixture. The hurling historians will be looking forward to this immensely given the epic clashes between these two proud hurling counties. Hawkeye Sidekick previews the fixture.
Cork speed and movement
Cork have impressed me with their pace and movement throughout this season's championship. They competed well against Limerick for long periods in Munster SHC before losing.
The key strength of this side is their run game. We want to see the half back line on the front foot, setting up an attacking platform.
O'Mahony, Coleman and Millerick have formed a superb half back line unit and their scoring contribution has been key to their success throughout the qualifiers. If Cork's half back line can secure a platform, this fixture is there for Cork!
Kilkenny looking to strike early
The Kilkenny team sheet was interesting reading. Three changes but it is the positioning of TJ Reid on the team sheet which was of particular note.
The Ballyhale Shamrocks legend is named at full forward line which suggests that Robert Downey should be prepared for a stern examination at full back early. I am expecting direct Kilkenny play to create a game winning lead.
I am thinking 2018 when Kilkenny tore into Limerick and Limerick never really recovered. Kilkenny with Cody inside in superb form will look to create the game winning platform. Kilkenny will go for the throat early.
Will Cork's inside full forward line get opportunities to impress?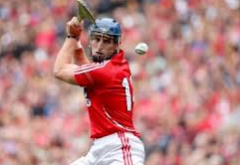 For Cork to win this championship fixture, they will need to score goals and this is an area of their game which is really impressive. Horgan and O'Connor inside have provided superb cameos in this championship.
Can Cork's middle third provide quality ball into these players? If they can, O'Connor has the ability to create havoc inside but Kilkenny will be astute and perhaps play a sweeper behind the half back line to stem the threat.
Cork's run game therefore would need to come into the equation to provide the space for Horgan and O'Connor to impress inside.
Cork will not get the space afforded to them like they have in the qualifiers so it will be interesting to see how Kingston and management look to answer that core question.
Kilkenny changes improve the side?
Michael Carey comes in for injury stricken Conor Browne at wing-back, Conor Fogarty is in for Richie Leahy who missed out on the panel altogether and impact sub Alan Murphy gets the nod at corner-forward in place of Martin Keoghan.
All three players called into the starting lineup must be flying it in training but Carey has a massive role for Kilkenny. He will need to provide a defensive platform for Maher and Walsh to get on the attacking front foot.
Carey's tackle in the Leinster SHC was horribly mistimed, lucky to get away with just a yellow card and Cork will look to test the player out early.
The midfield area for Kilkenny has yet to catch fire. Mullen for me is a forward so it will be interesting if Meade and Fitzgibbon test out Mullen in defensive duties.
After Waterford's win in this stage of the championship last season, Kilkenny will use the hurt of that loss to propel themselves to the All Ireland final but they will need to stun Cork early.
Fogarty and Murphy need to provide scoring threat, otherwise Cork will grow in confidence. TJ Reid is still the talisman and Brian Cody will be quite eager to see a young player step up and be the main man. Several prospects have come and gone!
Cork puckout strategy
atrick Collins is a superb shot stopper but the puck out distribution will be tested to breaking point tomorrow. Limerick exposed his distribution by pushing up on the puck out and Cork will need to vary the puck out strategy.
Variation is a prerequisite, certainly go short but the midfield and half forward line players need to use their pace and movement to provide genuine targets for Cork to win primary possession on longer puck outs.
The puck out strategy is not just the responsibility of Patrick Collins but the entire Cork side. If this is not on it from minute one, you would fear a long afternoon for Cork!
Physicality key
The appointment of Fergal Horgan for this fixture will be music to Kilkenny's ears. Horgan allows the game flow and allows players to compete and set down early markers.
Cork have been accused of lacking the fight in the physical battles. It will be interesting if Cork can raise their physicality and work rate for the entire game.
We know what we are going to get from Kilkenny. They will be on it from minute one so the question is whether Cork can match the intensity of their opponents. Roll on Sunday!