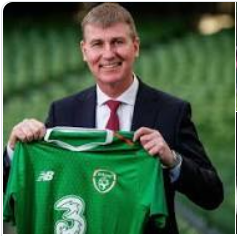 Stephen Kenny and Republic of Ireland travel to Baku this weekend in search of a maiden World Cup qualification campaign victory.
Azerbaijan though will feel more than confident of securing three points themselves. Hawkeye Sidekick reflects on the upcoming fixture.
Weather
Beautiful weather expected in Baku on Saturday with a high temperature of 17c and a low temperate of 10c. No excuses in terms of heat being an excuse for the Republic of Ireland players.
Azerbaijan Form Guide
Azerbaijan are winless like the Republic of Ireland in this current World Cup qualification campaign. It was a daunting first two fixtures but admirable results against Portugal away and Serbia at home. 4-4-2 formation deployed by De Biasi in each fixture.
Medvedev's own goal decided the Portuguese game just before half-time. Azerbaijan were well organized defensively. Portugal controlled possession and did have several other chances to extend the lead but it finished 1-0 to Portugal.
Mahmudov scored for Azerbaijan against Serbia in their second qualification fixture. It was a struggle for Serbia to win 1-2 at Baku. Mitrovic coming up trumps with a goal in either half.
Azerbaijan then went on the road to Luxembourg, played a 3-5-2 formation and were quickly 2-0 down to Luxembourg.
Azerbaijan did pull a goal back in the second half via Mahmudov. Luxembourg had some nervous moments at the death to close out the contest.
Azerbaijan traveled to Dublin and setup in a 4-3-3 formation. Mahmudov goal just before the break came from absolutely nothing but it was poor pressing defensively from the Republic of Ireland.
Stephen Kenny's side struggled for final third cohesion. Shane Duffy went up top to secure a share of the points. Azerbaijan were compact, well organized and had genuine counter attacking threat. 1-1 draw.
Azerbaijan buoyed by that performance welcomed Portugal to Baku. A different formation deployed as 4-5-1 formation was used.
Portugal clinically secured the win, two goals in the opening half. Andre and Bruno Silva had Portugal well on their way with two goals coming from attacks down the flank causing massive defensive confusion.
Diogo Jota secured a third goal. Portugal were not threatened during the fixture as Azerbaijan were under pressure frequently.
Formation
I suspect that Azerbaijan will go back to 4-3-3 formation against Republic of Ireland. Given their performance in Dublin, they will be confident of securing a victory here.
They will look to press Republic of Ireland early on the goal kicks and see if they can cause an unforced error at the back and score a goal.
Azerbaijan were rarely threatened defensively in Dublin. Can Stephen Kenny and management team devise a game plan where the Republic of Ireland attacking players can get behind the Azerbaijan back line cover? Can midfield provide a quality ball in behind to expose the Azerbaijan full back channels and create chances?
Closing Remarks
It is a key fixture for both managers as a loss here would seriously undermine their long term ambitions of managing their side long term.
Both sides need to come out and deliver a cohesive performance. I am expecting goals in this fixture given that both sides are out of the qualification picture.
I am fascinated to see how each manager has adjusted their game plan to maximize their side's performance levels. Both sides have scope for improvement.
How will Republic of Ireland improve in their pressing and nullify Mahmudov who is their key player? Azerbaijan if they can get confidence early becomes a massively tricky proposition for a Republic of Ireland who are looking for that qualification fixture win to secure additional confidence in their game plan. Roll on Saturday night!