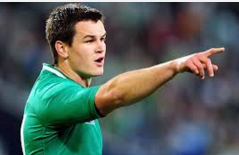 Given the Old Trafford debacle, I was hoping for a stirring test match at the Aviva Stadium. It never happened as Ireland ran riot.
Japan were poor today. No point sugar coating the point. They were deplorably mismatched in all facets of play, smashed at the breakdown, ruck time and maul. Ireland excellent to their credit.
The speed and accuracy on point today and never let Japan settle into this test match. Conan superb with ball in hand, go forward ball consistently.
Ireland's back three were having a field day and plenty of possession. 655 meters made in the opening half. Andrew Conway scored a hat-trick.
James Lowe scored a try and looked sharp. Hugo Keenan really sharp with ball in hand and a superb kicking game from hand.
Plenty of positives but New Zealand next weekend firmly focuses the minds quickly who scored forty points in Rome. Japan after going close against Australia last week were nowhere today.
The test match is all about Jonathan Sexton. He continues to be the standard bearer at the fly-half position. Sexton is a centurion. Sexton game management was sharp and his support running to the fore with his try.
The game itself was a testimonial for Sexton once the first quarter was complete. Ireland's decision to field experience seen today but cannot but feel that some of the prospects could not have received some game minutes given the opposition. All for another day. Roll on New Zealand!
Try Timelines
5′ – Super start for Ireland, plenty of go forward ball from the pack early doors. Great hands from Jack Conan to setup James Lowe for the opening try.
10′ – Superb try. Great hands and offloading. Gibson-Park with a superb kick in behind and Conway does the rest. Impressive start here. Pace and quick ruck ball hurting Japan big time. 12-0.
19′ – A superb first quarter from Ireland. The strong maul from the pack, the quick hands and Conway keeping width out wide. Keenan offload superbly executed. 19-0. Three tries scored.
34′ – Japan's defense around the ruck area is not at it and Ireland have scored another try. Ringrose after a superb defensive hit creates a line break and Gibson-Park supporting line is superb to score a fourth Ireland try. 29-0. Game over.
48′ – Super kick from Keenan to create the attacking platform close to the Japanese line. Maul stopped but quick pass from Gibson-Park to Sexton who was not going to be stopped. 36-0.
54′ – The confidence of Ireland there to see on this sixth try. Furlong to Porter passing sequence, quick ruck ball and quick hands leading to Aki to score. Utterly dominant, this is the end result. 41-0.
57′ – Thankfully Japan are off the mark. First opportunity with front foot ball. Ringrose and Conway exposed defensively with a superb running line in the leadup to the try. Good try. 41-5.
69′ – Seventh try. 48-5. Henderson sets it up winning a scrum five. Ringrose stretches to score. Keenan kicking in open play has been top notch. Japan under siege again from the restart.
74′ – Japan defensively a mess but credit to Murray for the grubber kick and Conway chase putting the pressure to cough up the unforced error. Conway hat-trick. 53-5. It is a rout folks on the scoreboard now.
80′ – Demolition derby for the eighth Irish try. Tap and go. Cian Healy powers over. Japan massively disappointing but Ireland have shown plenty of speed and accuracy. 60-5. FT.