You know, we have been given a tough schedule of matches, the way it has turned out, nevertheless it shouldn't make us any less determined to get positive results. We have had positive results of late.

Stephen Kenny – December 17th 2021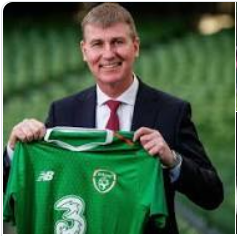 The Nations League draw pitted Republic of Ireland against Ukraine, Scotland and Armenia. June and September football for Stephen Kenny to deal with. Hawkeye Sidekick reflects on the draw, the fixture schedule and reaction from Stephen Kenny.
| | | | |
| --- | --- | --- | --- |
| Date | Opposition | Home / Away | Kickoff Time (GMT) |
| Saturday, June 4th | Ukraine | Home | 19:45pm |
| Tuesday, June 7th | Armenia | Away | 17:00pm |
| Saturday, June 11th | Scotland | Home | 17:00pm |
| Tuesday, June 14th | Ukraine | Away | 17:00pm |
| Friday, September 23rd | Scotland | Away | 19:45pm |
| Monday, September 26th | Armenia | Home | 19:45pm |
Fixture Schedule
Draw Reaction
A competitive group truth be told. Ukraine are top seeds and finished runners up in a group with France and Finland. Ukraine were steady with only two wins and six draws. Their 0-2 away win to Bosnia-Herzegovina secured their playoff berth as France defeated Finland. Ukraine have a good blend of youth and experience. Zinchenko, Karemchuk and Yarmolenko will be the key outfield players. This squad continue to evolve post the Shevchenko managerial reign.
Scotland are the second seeds in the group. I am impressed by everything that this Scottish setup is right now. A quality manager in Steve Clarke and backroom team. A side loaded with quality and with an attacking unit who are evolving and progressing well. Six consecutive wins in their World Cup qualification campaign culminating in a superb 2-0 win over Denmark. A massive playoff fixture against Ukraine beckons. There will be needle between these two sides during this Nations League campaign.
Armenia are the fourth seeds in the group. Their recent World Cup campaign saw the side secure twelve points. A mixed bag of performances. They secured results against Romania and Iceland but were hammered by North Macedonia (0-5) and Germany put ten goals past them in two fixtures. Technically very good but defensively vulnerable when sides applied pressure in the high press.
Republic of Ireland will need to continue to evolve and progress further from their recent World Cup qualification campaign. The final third threat needs to improve. Robinson and Ogbene the standouts as the likes of Connolly, Idah and Parrott struggled for game minutes, form and goals. The emergence of young talent in the squad was the positive from that campaign. Kenny and side cannot have a similar qualification campaign where ambitions were dashed within three games.
Schedule
June football so club commitments will not be an issue. There remains uncertainty on where the Ukrainian fixtures will be played.
Ukraine will hope to be able to host their games at home in Kiev or Donetsk but the evolving Russian situation looms large on the region. Armenia and Ukraine away trips will be a tough schedule if confirmed and temperatures in those countries will be in the high 20's at the least. Squad management paramount.
I did not like the comments from Stephen Kenny on the fixture schedule. Just get on with it. It sounded like making excuses early, a little bit like midway through the World Cup campaign when the aim was to build for further campaigns.
Republic of Ireland are third seeds for a reason. We have not won a game in this tournament so time to address that early with a home tie against Ukraine. The side will need to deliver strong performances, high press without the ball and continue to execute a cohesive and up-tempo passing game.
The Scottish fixtures will be marvelous. The local derby feel in these games will be superb given the Tartan Army support. The atmosphere will be electric. June football. Summer weather and hopefully without pandemic restrictions, it all bodes well for a superb Nations League campaign. It is time that the Republic of Ireland team delivers in this competition and this group composition could make this happen.
For Stephen Kenny, this draw could have been a hell of a lot worse. Norway, Sweden, Serbia and Slovenia. That is an incredibly difficult group. It is time for Stephen Kenny to pipe down on the fixture schedule, focus on the opposition, setup some March friendlies to enable the side to produce quality performances come next June. The ball is in Stephen Kenny's and management team's court.