My record in FPL is horrendously bad. I lose interest pretty much within weeks of the season starting when it is apparent that all my mates are miles ahead.
My problem is that I like to go with the left field prospect, the prospect that will be a late bloomer and not one that will pick me up points immediately. I hope I have learned my lesson so it is tough to gauge given this opening weekend team selection.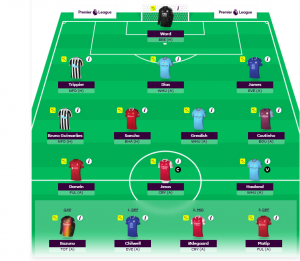 As you can see, I am placing plenty of faith on Newcastle United to deliver a performance against newly promoted Nottingham Forest. Kieran Trippier and Bruno Guimares if on form should provide plenty of attacking width and threat.
Danny Ward is a very under rated keeper. He has had to bide his time with Leicester City but with Kasper Schmeichel gone to Nice, it is the opportunity for the Welsh man to impress for Leicester City. Let's hope Leicester City outfield players deliver a performance against Brentford.
My hope for Manchester United this season is that Jadon Sancho is the star man from an attacking perspective. Brighton and Hove Albion come into the season on the back of the Cucurella departure to Chelsea so fancy Sancho to start the season well here.
Creativity is the key in midfield with Grealish and Coutinho in the four man midfield. Both players have superb ability and they should shine this season for respective clubs. Grealish and Haaland for me is a partnership to be excited about in the EPL!
Dias is solid as a rock in the defensive duties and can provide attacking threat on set piece. Reece James should be able to advance deep for Chelsea on their road trip to Goodison Park against an Everton side who look to be on the back foot after a shaky preseason.
There you have it. This is my team for the FPL opening weekend. I could be regretting some moves here come Monday morning but it is good to have the FPL back for the banter with the crew!
Best Wishes,
Hawkeye Sidekick.