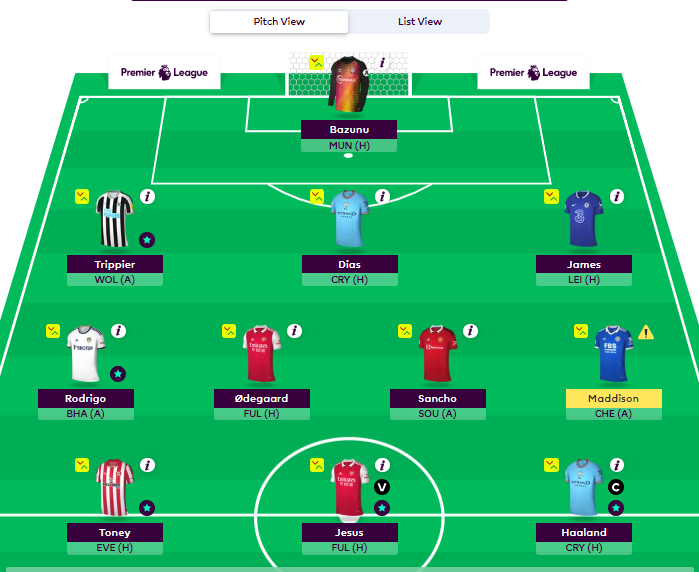 The start of a season always throws the surprise. The newly promoted side performing out of their skins to deny more illustrious opposition a predictable win. It has all happened so far as the likes of Liverpool, Manchester United, Chelsea and even Manchester City have dropped points.
58 points last weekend was decent but I need more. Odegaard will be a huge player this season for Arsenal; outstanding last week against AFC Bournemouth. Scott Parker may talk about his side's lack of ambition and desire but I did not mind as Odegaard went to town on the South coast.
I have dropped Danny Ward. Leicester City for me look in serious trouble, relegation battle potentially if Wesley Fofana is packing his bags next week. The defensive performances in the second half have not been good so I am out on Ward for now. Step forward, Gavin Bazunu.
For all the euphoric tones coming from Manchester United, their fixture away to Southampton is more significant. It is these type of fixtures where this squad have consistently been caught out on. Manchester United will get up for the bigger games but this is a fixture where the job must be done.
Jadon Sancho needs to be the main creativity threat for Manchester United as Cristiano Ronaldo departs stage soon from the football club (Sporting CP mentioned but where will they get the money). In any case, Gavin Bazunu is in for the foreseeable future. The player is quality and Southampton have turned a corner in their transitional game.
The back three remains as is here. Trippier has started the season so well with Newcastle United, clearly benefiting from Eddie Howe's style of play which demands that his full backs are advanced. A superb set piece. Trippier for me is a lock in any team this term.
Dias is playing more minutes than Pep Guardiola requires as Nathan Ake again is out due to injury and vulnerabilities in this defensive play were exposed at Newcastle. Crystal Palace is a game which will sharpen the focus of Manchester City given their recent fixtures with Patrick Vieira's side.
I suspect Manchester City will be on it from minute one and it should be a good day for Haaland upfront. City need to exact punishment on Palace. Dias and Haaland will be key. Grealish is doubtful so have pulled him out this week as Silva continues to impress.
Rodrigo has been the star man for Leeds United this season. He has reveled in the nine role and this Leeds United side have massive energy and momentum behind them as they travel to Brighton who have started well. I suspect this game will be a good scoring contest. Rodrigo is at the heart of all things good for Leeds United along with Harrison. He comes in and hopefully delivers goals aplenty.
A side full of pace, goalscoring prowess and assists. I am playing catchup. Free play beckons next week if I am not on the money this week! Best of luck to everyone this week. Let's hope the form lines stabilise.
— Hawkeye Sidekick.