February is behind us. Several intercounty hurling teams have taken the opportunity to hold spring training sessions away with last weekend's bye week. This weekend should see hurling managers look to test out potential championship back, midfield and forward line unit combinations as the championship draws ever closer.
Where we stand after round three?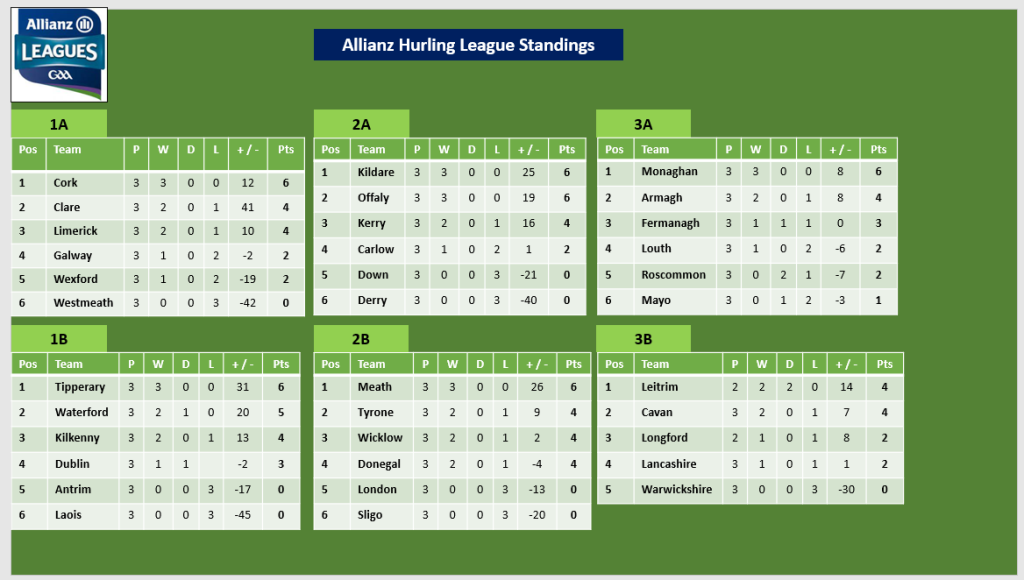 Division 1A
Cork go into this weekend with a 100% record. Pat Ryan has wasted little time to give prospects an opportunity and they have repaid that faith with some excellent performances. Cork entertain a Wexford side whose confidence will be shaken after their heavy loss to Clare in round three.
Darragh Egan and panel harmony surely tested after a loss of that magnitude. Egan has given opportunities for prospects to deliver but you feel that Egan may consider bringing back some experience in the spine of the team to settle things down.
Cohesion issues still for Wexford as Cork will look to bring back marquee players after been rested in round three's win over Westmeath. Cork should advance to the semi-finals with a win here at home.
Clare and Galway is the most intriguing fixture this weekend. Galway allowed Limerick to control tempo for long periods in Salthill and only for Conor Cooney's scoring contribution, the round three fixture would have been incredibly one sided.
Henry Shefflin surely will look to use Conor Whelan in the full forward line to solve glaring forward line unit cohesion issues. Clare on the other hand flexed their muscles when required at Chadwicks Park, Wexford. 6-25 is a massive score.
Aidan McCarthy, Mark Rodgers and David Reidy all in great form to complement Tony Kelly and Shane O'Donnell's return to the fold. These two sides will know plenty about their championship aspirations at the end of this fixture. Clare look the more in form side right now and I would give them the home edge to beat their near neighbours.
Limerick travelled to Portugal for warm training but the weather has been anything but with rain and cloud the prevailing forecast. The reigning All Ireland champions will travel to Mullingar in confident mood.
Two solid wins over Clare and Galway suggests that there is more in the tank come championship and the emergence of Houlihan, O'Brien and English to the forward line is a welcome problem for John Kiely and management to consider.
Westmeath have battled valiantly in previous rounds. Their scoring dependency on Killian Doyle seen in their six point loss to Cork last time out. If Killian Doyle does not make the game, who will step up for Westmeath? Limerick should win this contest despite spirited resistance from Westmeath.
Division 1B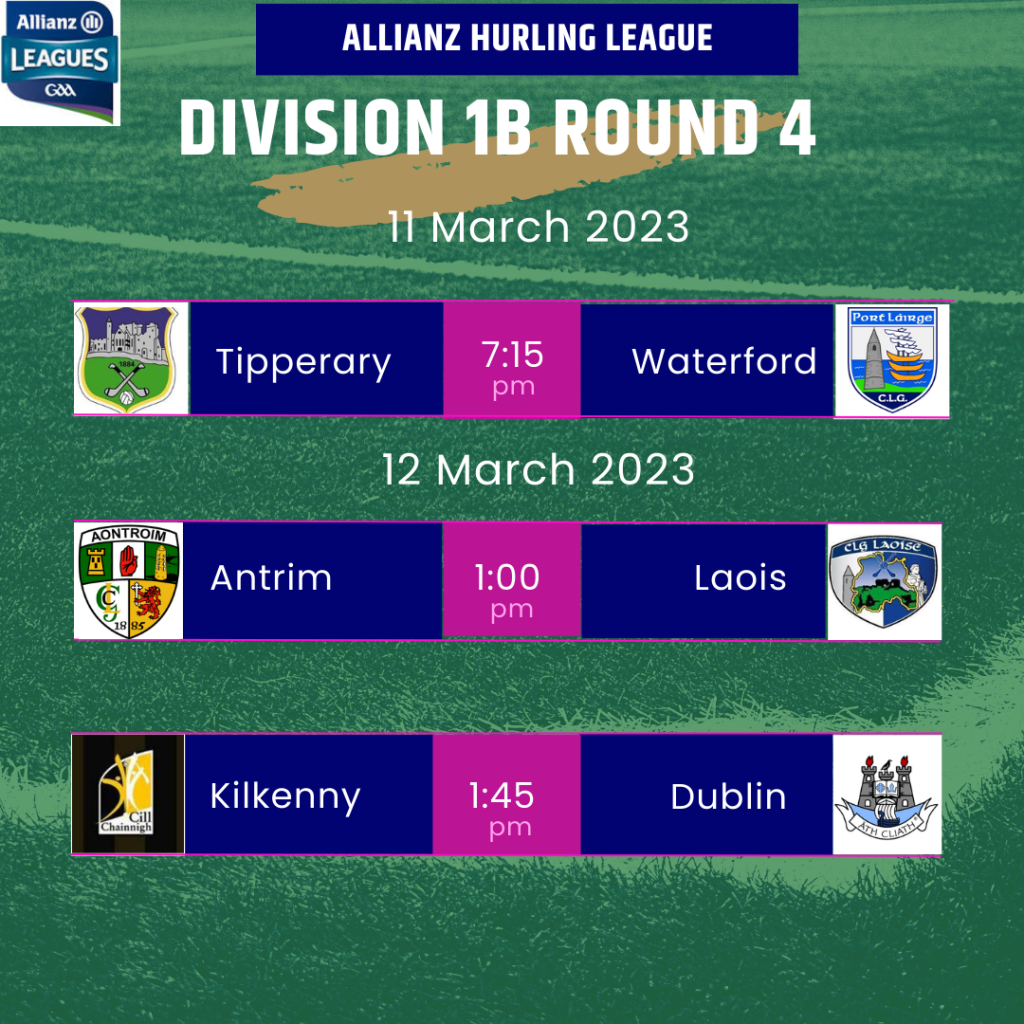 The standout fixture from this division is the meeting of Tipperary and Waterford. Tipperary under Liam Cahill are building a solid form line going 100% so far in the league despite shipping several injuries along the way.
The emergence of Conor Bowe, Jason Forde, Gearoid O'Connor and Brian O'Mara have caught the eye for Tipperary management. The injury count is a concern heading in the championship but this is a true barometer gauge on how this Tipperary team are progressing.
Waterford have had a topsy-turvy campaign. They remain unbeaten but there have been disciplinary issues in the opening two games (three red cards). Their bench impact and in particular Austin Gleeson has rescued them against the likes of Laois and Antrim.
The squad potential is huge so it is now time to deliver a statement to all rivals. Thurles on Saturday evening will a test run for Waterford also and they will relish the Thurles surroundings. I sense a big Waterford performance here and I will edge this to the Deise. The need is more for Waterford right now with a tricky Kilkenny away fixture to come.
Kilkenny entertain Dublin in Nowlan Park. Dublin's reliance on Donal Burke continues to be pivotal for their overall success. 1-32 is a huge scoring tally from the player so it is up to Michael O'Donoghue and management to identify an unit which can contribute scores to lessen the load for Burke.
Donal Burke's injury late against Tipperary is a worry so it will be interesting who steps up to provide the Dublin scores if Burke is unavailable for selection.
The Cats rebounded from a narrow loss to Tipperary in round two with a routine win over Laois in the previous round. Drennan continues to progress and one would expect more Ballyhale Shamrocks players featuring in this fixture.
Derek Lyng and management looking to change up the game plan with passing through the lines but knowing that they have the direct game to called upon if required. Kilkenny should have too much for Dublin here in this fixture.
Antrim entertain Laois at Corrigan Park. Antrim have competed well so far in the league. They have provided good challenges to Kilkenny, Dublin and Laois. Their accuracy in front of goal has been questionable but the Dunloy contingent are back so they will look to issue a statement on Sunday.
This is a huge relegation fixture. The victor can look forward to more top flight hurling next season. The loser looking at a playoff final against Westmeath.
Laois under William Maher are in the transitional slot right now. Their performances have had flashes of optimism with the Waterford performance and the second-half against Kilkenny last time out. However, Laois have shipped big scores in these fixtures.
A key fixture for the county. Antrim should win this but historically, there has been precious little between these sides. Antrim should edge this given the development already completed under Darren Gleeson.
Division 2A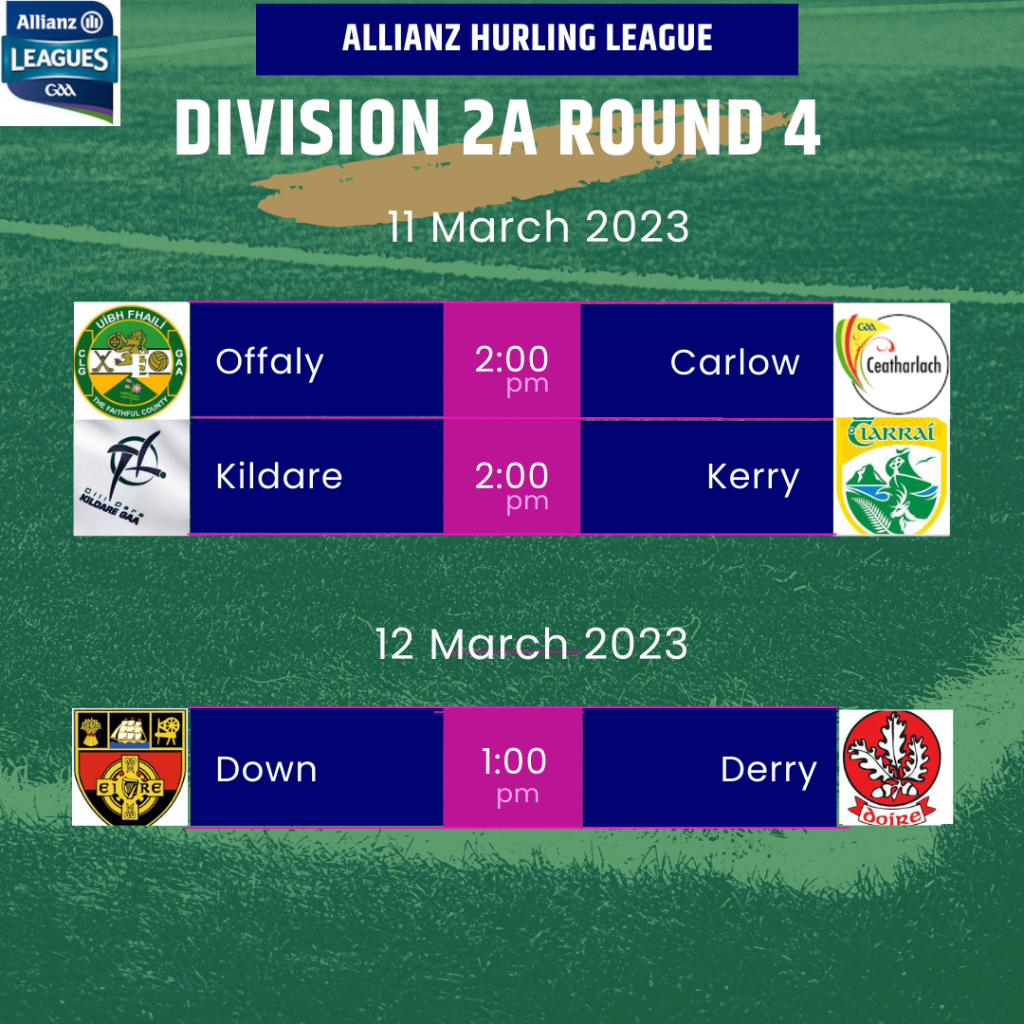 The promotion and relegation battle in this division should provide plenty of answers this weekend. Saturday sees Offaly host a rejuvenated Carlow who put five goals past Down in the previous. The Faithful County edged past Kerry in the previous round but realise that this performance will not be good enough against Carlow whose marquee players have started to pick up form.
Offaly's forward line cohesion will be a close watch here. Eoghan Cahill with 0-35 so far tells the tape (nearly half the team's scores) so Johnny Kelly will be looking for more output from the rest of the team. Offaly to edge this but I would not be surprised if Carlow secured the win. Marty Kavanagh and Paddy Boland come into this fixture in great form.
The most interesting fixture for me will be Kildare's home fixture against Kerry. Kildare are three from three but the genuine promotion fixtures are now upon us. Kerry have been competitive but Padraig Boyle continues to the key point scorer for the side; scored 0-10 of 1-18 against Offaly in the previous round.
Kerry defensively have been tight in the league. They are second ranked in the division just behind their opponents Kildare this weekend. Stephen Molumphy is under pressure to deliver silverware with this team after too many All Ireland final misses in recent years. Kerry will look to set the marker for the championship so it is down to Kildare to respond.
There is plenty to admire about Kildare and their investment in their hurling structures. David Herity is an astute hurling man and the side have elevated their performance to new levels this season. The Kehoe Cup secured, Kildare have shown with their big opening round win over Carlow that they are looking to deliver still further.
James Burke and Cathal McCabe have impressed so far in the league. Their last home performance was a shaky one point win over Down as their shooting accuracy was below par (16 wides). This is a fixture earmarked by Herity and team. Kildare need this win so a narrow victory over the Kingdom may be the prediction here. It would setup Kildare's trip to Tullamore superbly well in the final round of fixtures if they took care of business this weekend.
In the other hand of the division, Down and Derry look to stave off relegation. Derry have struggled for scores in this league, they are the lowest scoring team in this division. They have the worse defensive record despite Cormac O'Doherty scoring exploits. Down have been competitive, their previous round loss to Carlow was a reality check but I expect Down to regroup and with Paul Sheehan in superb touch, Down should alleviate any relegation concerns with a good win here at home.
Division 2B
The two top teams in the division face off in round four this weekend. Meath with a 100% record travel to Tyrone who will look to Mickey Little for a scoring platform. Tyrone's only loss coming on the road to a dangerous Wicklow side who still harbor promotion ambitions. If there is a draw this weekend, then I think this fixture ticks all the boxes.
London entertain Sligo in Ruislip in a relegation fixture. Both sides have been competitive in their previous league fixtures but slight edge goes to London who look to have more scoring prowess here.
I was very impressed by Bray Emmett's against Monaleen in the All Ireland intermediate championship. Wicklow travel to Donegal who still have promotion ambitions. Wicklow with Moorehouse and Masterson look to have that decisive scoring touch that should edge them over the line. Wicklow and Meath would be my tips for the 2B promotion final.
Division 3A
Monaghan are currently on top of the division. They are 3/3 so far with those three wins been close fought affairs.
A key promotion test comes with a trip to Mayo who are better than the league table suggests, some close run losses in the fixture schedule so far. Mayo need a result to stave off relegation and I think that need is more for the Mayo men over Monaghan where Fergal Rafter has been in fine form.
Louth and Fermanagh look very evenly matched here. Both harbour promotion ambitions. This is too close to call, a draw may not be out of the question as attacking threats on both sides looks even. Armagh travel to Roscommon who have lost their manager already.
Two draws and a loss for Roscommon so Armagh will need to deliver a performance but slight edge goes to the Orchard county team here. Fionntainn Donnelly and Danny Magee scoring looks an intriguing subplot.
Division 3B
Warwickshire have a bye week and need it to regroup as they are 0/3 so far in the division. Cavan and Leitrim play at Breffni Park. It is a tough call this with point differentials quite similar. Cavan have shown more balance in attack so will get the slight edge here. Canice Maher with 1-24 is having a terrific year.
Longford and Lancashire is another tough fixture to predict. Both sides are just off the top two but Robin Spencer and David Burke if they deliver for the visitors could be decisive in a victory.