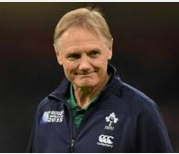 Saturday heralds the start of the summer international series for the NH sides. Ireland travel to face Australia in a three test match series, a series which should provide some useful indicators ahead of RWC 2019 tournament next year. Hawkeye Sidekick reflects on the key talking points coming into this series.
Ireland Half Back Depth Chart
If Ireland and Joe Schmidt are to succeed in the RWC 2019 tournament and advance to a much coveted semi-final, Schmidt and management have to identify their half back depth chart. Murray and Sexton are superb players but the depth chart in these positions is, well, I am not sure. We need to know who can step up to the scrum half and fly-half positions if injuries arise to the first choice starters. Hoping Ireland management give sufficient game time to the likes of Marmion, Cooney, Carbery and Byrne on this tour as we need to find out how good these guys could potentially be.
There is no better place to test the mettle of these players than a tour to Australia. Luke McGrath will be an interested observer on the nine performances; surprised that the Leinster scrum-half was not included but I think there is still time for the player to make an impression next season. The ten channel depth chart needs addressing; conflicting depth charts in Leinster / Ireland last season as Byrne was backup to Sexton while Carbery was Sexton's backup in Ireland. Carbery has decided to leave Leinster for Thomond Park next season but it will be interesting to see on this tour who Ireland management believe in more to fill the ten position if Sexton is unavailable.
Ireland Hooker Depth Chart
The withdrawal of Rory Best from the Ireland tour to Australia has presented Ireland management with a perfect opportunity to evaluate the hooker depth chart. Several players vying for position to be the backup to Rory Best who has had an excellent international season. Sean Cronin looks primed to start the first test match in Brisbane this weekend; the Leinster hooker has being superb in all facets of play this term. His work ethic and performances this season have resulted in his inclusion back in the side and this is a perfect opportunity for the Limerick native to cement his squad berth for RWC 2019. Rob Herring and Niall Scannell will also be looking for game time to impress management; both players have had mixed seasons with their provinces due to form and injuries but both should have useful cameos to demonstrate their ability to execute at test match level. Conceivably, both players are chasing one squad berth place for RWC 2019. James Tracy potentially comes into the squad selection if he can feature for Leinster Rugby early doors next season (outside shot).
Australian Hooker Depth Chart
The retirement of the sold, reliable Stephen Moore has presented issues aplenty for Australian head coach Michael Chieka. Tatafu Polota-Nau is rested so the Wallabies will field a rookie hooker with Paenga-Amosa and Fainga'a primed for Test debuts along with recent inclusion Tolu Latu. Set piece execution looks problematic for Australia given the lack of experience in the hooker position. Australia may need to stifle expansive line out calls for solid conservative first pod execution. The players in the hooker position for this test match series will look to establish themselves in the depth chart reckoning with Polota-Nau the first choice hooker for the RWC 2019. Given Ireland's set piece efficiency, Australia may have their work cut out to gain parity in this facet of play.
Back Row Battle
I am really looking forward to the back row battles in this test match series. Australia will look to chop Ireland's back row ball carrying threat. Stander and O'Mahony may need to try different running lines to keep a back row unit led by Pocock and Hooper off balance. The actual breakdown battle should be epic. Dan Leavy has had a marvelous season for club and country and his clear out work and ability to steal opposition ball will be tested by the dynamic Hooper and Pocock. The back row depth chart for Ireland looks primed to test Australia in this facet of play particularly in the final quarter along with ball carrying. Hoping it is an open contest in this facet of play!
Emerging Australian Talent
Ireland's squad selection yielded no significant inclusions. Byrne and Cooney additions to the squad were well merited; there is a sense of continuity in this Ireland squad which indicates that Schmidt and Ireland management are happy with the majority of the squad assembled, perhaps two or three squad slots up for grabs if all players are fit for the RWC 2019 (unlikely scenario). Australia on the other hand will look to unearth talent this summer ahead of the push in RWC 2019 preparations.
Brumbies duo Folau Fainga'a and Tom Banks, Rebels full-back Jack Maddocks and Reds forwards Brandon Paenga-Amosa and Caleb Timu are all included. The back line inclusions look exciting. Maddocks is an excellent full back, his pace and power coming into the line seen to full effect with the Rebels this term. Fainga'a and Banks are speed merchants; their ability with ball in hand looks impressive. This test series will see whether these players have the defensive nous and aerial ball dominance required to make it at test match level. The jury remains out.