The final opening round group sees an intriguing quartet. Colombia, Poland, Senegal and Japan should provide plenty of exciting fixtures with the likes of James and Lewandowsk featuring. Hawkeye Sidekick previews the group and it looks like a battle for second place with Colombia the standout team in this group.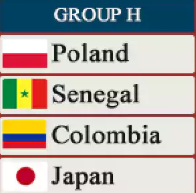 Colombia
A potent dark horse in this tournament. Colombia's attacking threats will seriously test any opposition in this competition. James, Falcao, Bacca bring different facets to the team. James will look to play deep and make astute runs in behind defenses. Falcao will be the ultimate goal poacher while Bacca's aerial and shooting prowess is excellent.
This is a solid squad selection, defensively compact with Ospina in the sticks providing reassurance if defensive lapses take place. Sanchez and Arias are key personnel in the ranks, their ability to defensively organize and lead by example will be to the fore. Cuadrado as well is a player who given the opportunity could revel in this tournament given the attention that Falcao, Bacca and James will get in this tournament.
No significant weak links this side. A side who will be defensively compact but have an edge upfront. Colombia look destined to top the group. Their clash against Poland will be fascinating encounter to see how good this side is. James looks destined to have another immense tournament for Colombia.
Poland
A difficult side to work out truth be told. Poland are very Jekyll and Hyde at times; their qualification campaign saw mostly consistently high level of performance but then produced an absolute stinker against Denmark in Copenhagen. The side's chances in this tournament rest with a couple of keynote players.
Robert Lewandowski is the talisman of the side. His goal scoring ability is excellent. Fifty-five goals in ninety-five internationals speaks volumes. He will require service from the likes of Grosicki who is an underrated player in the setup. Kubar will look to provide leadership when the opportunities arise. Szczesny and Gilk will need to provide leadership at the back.
The issue with Poland is the sheer inconsistency of the side. You will see Poland have excellent periods in games but then there will be poor periods of play which will allow opponents a foothold back into the match. They should advance from the group but not sure if they will advance any further. Disciplinary issues and squad depth could rear their head in the latter stages of this group.
Japan
Is this the tournament where Japan can cause an upset and advance to the knock out rounds? Sufficient attacking threat to chose from with the likes of Kagawa, Okazaki in the squad. Yoshida and Kawashima are excellent professionals at Southampton and Metz respectively.
Japan will provide work rate, desire, team work and organization but how defensively solid are Japan on the set piece? Poland and Colombia in particular are particularly dangerous in this facet of play and some of the goals conceded in their qualification campaign exposed basic defensive fundamentals in free kick situations.
I would love for Japan to advance. Their fan base are incredible. For Japan to advance, a lot of things need to go in their favor. Japan will at times control possession in games, they will need to make these periods of play count. I think Colombia and Poland may have just too much for the Japanese team but their work rate and fitness will keep teams honest in this group. Opening round exit looks the shrewd bet here.
Senegal
A side who have experience and talent to cause problems for the other teams in the group. The experience of the squad emphasized with the likes of Kouyate, Gueye, Mane, Biram Diouf, Sakho. Players who have a wealth of EPL experience.
Mane is the key player for this Senegal outfit. The African nation will look to hit opposition on the counter attack and Mane's pace and prowess in front of goal will be the primary threat for the side.
The negative is defensive frailties during the friendly games in recent weeks; defensive organization on the set piece was problematic and issues at times with their shape. Training camp sessions hopefully addressed these concerns.
The outcome of their first group game against Poland will determine how far Senegal will advance in this competition. A positive result and the team will fancy their chances of group progression; otherwise, heads will go down and an early exit could be confirmed in their second fixture.