A mediocre week for yours truly last week and Hawkeye Sidekick is starting to ponder team selection ahead of this weekend's fixture list.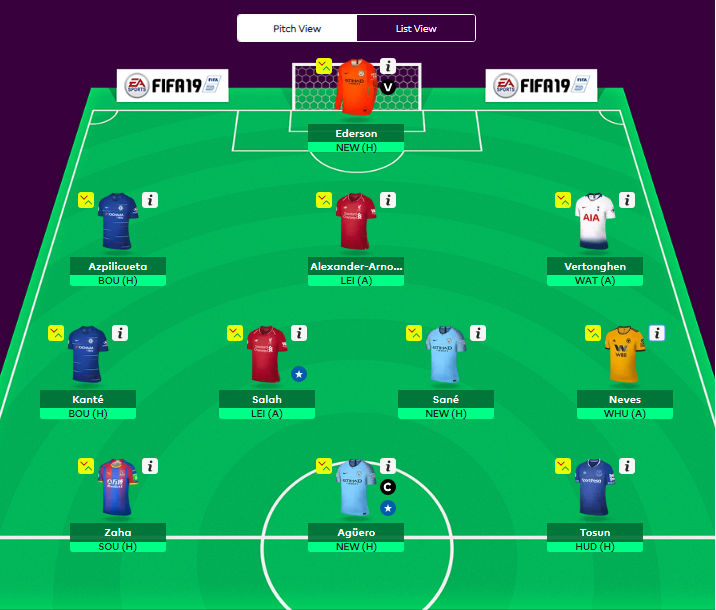 No change in goal as Ederson continues to put solid performances; a near certain clean sheet last weekend denied by dubious officiating at Wolves. A game against under pressure Newcastle United should see more points from the net minder and his distribution to outfield colleagues could yield assists like in game day two. 
The back three continues as is for now; have my concerns on Alexander-Arnold, yet another booking to his name but was prominent in a couple of attacking opportunities for Liverpool. I will give him another week to impress; otherwise it could be time to look elsewhere. Azpilicueta and Vertonghen continue to impress and expect good numbers from each player with games against Bournemouth and Watford. 
The midfield four is unchanged, hoping Neves can impress against a clearly struggling West Ham United on the road. Neves is a class act and with West Ham United struggling to keep clean sheets (even against AFC Wimbledon) , Neves should be prominent.
Salah continued his good start to the season with another strike against Brighton Hove & Albion and I cannot see Leicester City defense able to contain the Liverpool attacking threat. Speed kills and Liverpool could give Leicester City a serious hiding. 
Sane is another player which I am pondering over. Minimal starts for City this season; will keep the faith for another week and hope Pep gives the German international the nod. If not, then time to look at my options. Newcastle United look so vulnerable right now and City could have the proverbial field day if they score early. 
Kante should be prominent against Bournemouth; consistent points throughout the season and he should chip in with additional goals this season as Sarri looks for the French international to contribute more from an attacking sense which is very much a work in progress. 
The key change this week is upfront. My patience with Rashford has gone; a player of serious ability but with the Manchester United crisis in full flow, it remains to be seen when Rashford will get more game time so is dropped from my squad.
Cenk Tosun comes into the lineup. He will replace Richarlison who is suspended and with a home game against a vulnerable Huddersfield Town side missing Jonathan Hogg in midfield, Tosun should get plenty of opportunities to score. 
Aguero lines the lead as always for City. Newcastle United at home and should be a good game to pick up additional goals and assists with Jesus providing searing pace alongside. 
Zaha has started the season really well and a home game against a Southampton side who are a mixed bag at present should see the key Palace attacking threat add to his goals and assist tally. 
The objective is clear this week, start to claw back points lost last week. If not, Hawkeye Sidekick may be looking at a long season of defending himself from his mates down the local!