Two home games so far for Connacht Rugby and the new managerial era of Andy Friend, one loss (narrowly) and one emphatic win has shown the potential and the scope of improvement required from the West of Ireland province to get to the next level this season. Hawkeye Sidekick has being number crunching the starting lineup statistics for Connacht Rugby in the first two rounds and some interesting statistics have emerged.
Meters Gained
Connacht Rugby's ethos to run the rugby ball is well known and this particular statistic showcases the talent on show in the side.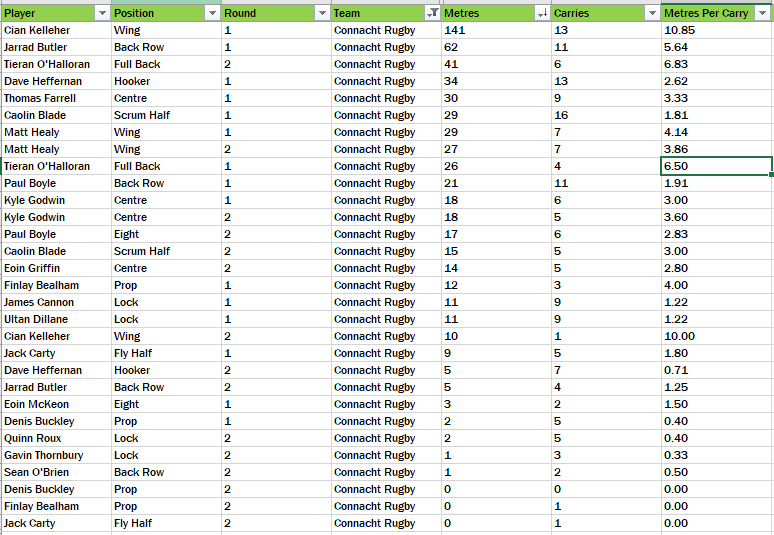 Cian Kelleher tops the chart with his opening round cameo; a game where he received the ball thirteen times and made 141 meters; a whopping 10.85 meters per carry which is indicative of how the wingers has gone during preseason. Tiernan O'Halloran produced solid numbers with ball in band; his meters per carry will above 6.5 which is impressive. Tom Farrell looks primed for a superb second season if his opening statistics with ball in hand against Glasgow Warriors are anything to go by. Jarrad Butler has led from the front; his work load against Glasgow exceptional. 
Tackles Made
The tackle count tallies for the opening round fixtures show a contrasting level of tackles from the starting fifteens. Glasgow Warriors tackle count was high and seen with Butler, Heffernan and Boyle charting highest. The Zebre Rugby game saw the hosts very dominant during proceedings with Gavin Thornbury topping the tackles made chart with twelve. Butler has being outstanding in this facet of play (24 tackles so far), great captaincy choice and leading by example.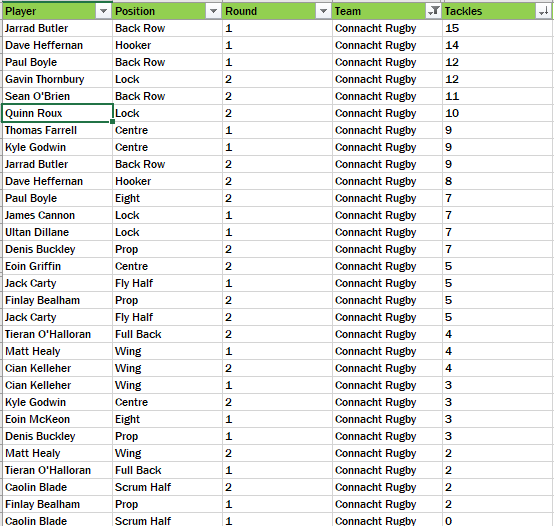 Passes
A statistic which threw up a couple of interesting numbers. Caolin Blade at scrum-half as you would expect leads the chart with a whopping eighty-one passes against Glasgow but look at the passing statistics for round two, just twenty-seven passes during his cameo; evident in the fact that the scrum-half was deployed out wide to create attacking opportunities for his side at different intervals. Blade's direct running has being a success for the side this season. Carty's statistics are strong too; playing conditions dictating the number of passes in the second round fixture. Farrell and Boyle impressed with ball in hand as well as passing to team colleagues looking to create in around the fringes.
Line Out / Restarts
The good, the bad on both set pieces. Line out during round two in the opening period was a lottery given the slick weather conditions with a couple of Zebre Rugby steals when Connacht Rugby were in the red zone. Heffernan has grown into the starting role so far and with Delahunt for competition, both players should evaluate their game to the next level. 
The restarts are very much a work in progress; it was ruthlessly exposed last season by various teams and Glasgow Warriors benefited from unclear restart strategy in round one; a facet of play which needs Connacht Rugby to improve upon and will look to collate numbers on this as the season progresses. A solid start to the season but a key three game stand looms large starting with Edinburgh (A), Scarlets and Leinster Rugby (H).