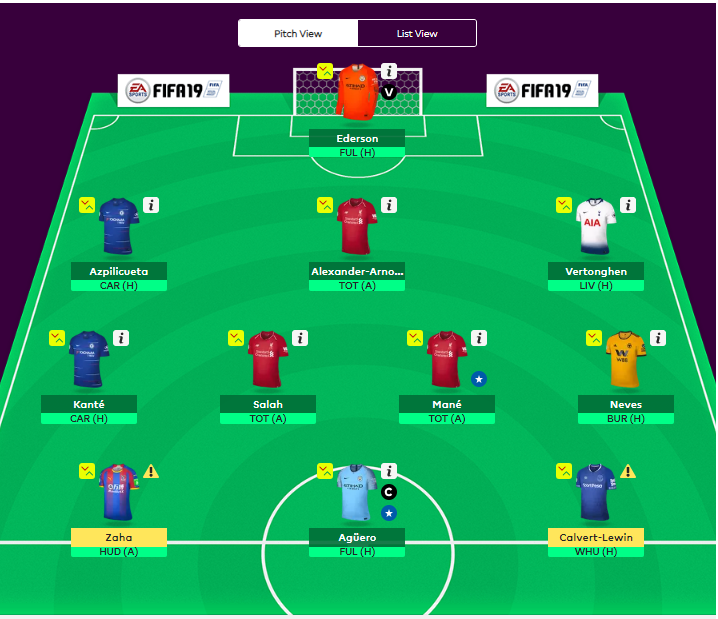 After an international football break where WhatApp audio clips were the order of the day for anyone interested in Republic of Ireland training ground shenanigans, it is a welcome relief that the EPL is back and with it some decisions for the FPL side which struggled last time out. A couple of team changes as my patience with the pup Sane and a quite clearly not required Cenk Tosun (Everton) have forced my hand. 
Goalkeeper
Ederson continues in goal. A home game against a Fulham side who will not be afraid to pass the ball around should see an exciting spectacle and perhaps an opportunity for the Brazilian keeper to provide a quick assist for his outfield colleagues. Clean sheet is the aim this week. 
Defenders
The back three remains unchanged; going to give Alexander-Arnold one more chance. A tough fixture against Tottenham, the likelihood of another yellow card but the player did show some genuine attacking threat. One more chance for the player, otherwise Robertson could be getting the nod. 
Azpilicueta is solid and with a home fixture against a Cardiff City side who are struggling to score goals, clean sheet should be well achievable and perhaps a foray on the attacking set piece could yield a goal. An added bonus (here's hoping). 
Vertonghen has being an ever present in the side, tough fixture with Liverpool at the weekend but his threat at the Tottenham set piece could be an added bonus. Clean sheet looks remote to be honest given the pace of this Liverpool attacking unit; hoping perhaps for a goal / assist from the player. 
Midfield
I have had enough of Leroy. I have had enough of the bench warming sulking body language antics so Sane is gone from the squad, slotting Mane into the side and could be a permanent fixture given his early season form.
Pace to burn and has chipped in with a couple of goals as well, hoping for the same against Tottenham along with Salah as the counter attack style of Liverpool in this fixture could be too much for Tottenham defensively. Question marks on Lloris fitness as well.
Neves continues to impress; cannot see the player being at Wolves next season and hopefully he showcases his talent against a Burnley side who are struggling for goals and defensively have looked vulnerable. Kante will continue to do his thing; protect his back four and keep a clean sheet against Cardiff City. A goal from the French World Cup winner would be dreamland territory. 
Strikers
Sergio has proclaimed that he is in good fitness and physical condition, that will do for me and he continues. Fulham will provide opportunities for City and Aguero should be in the middle of all that will be good in City's attacking play. 
The two other strikers are questionable picks. Zaha's absence against Southampton last weekend was massive for Palace so I think if Zaha can stand up, he will be playing against Huddersfield Town who are ripe for another thrashing.
Calvin-Lewin should play against West Ham United in the absence of Richarlison. West Ham United defensively are not doing it for me at the moment and Everton should produce good chances. Cenk Tosun looks to have no future at the club so Calvin-Lewin will get the nod and hopefully score a couple of goals.