Houston. We have a problem. The fixture list is conspiring and I am starting to go more up than down the private league standings and more woe lies potentially in wait after this weekend.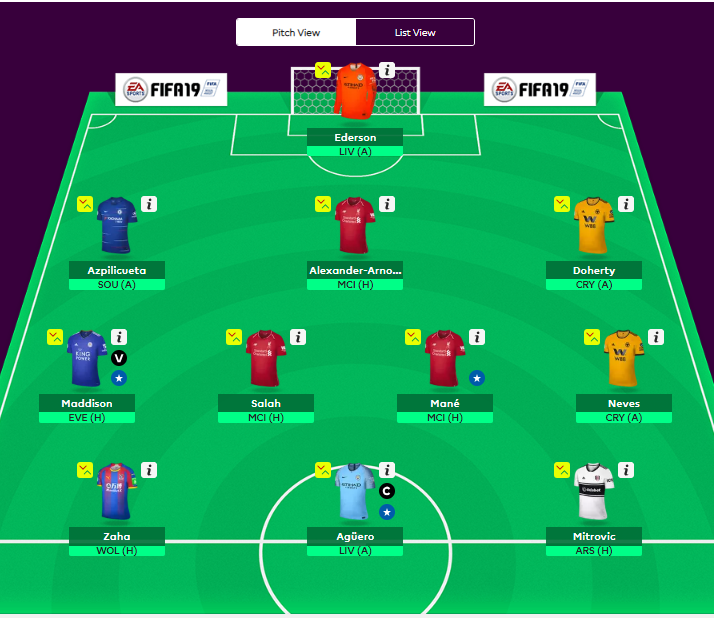 You see the predicament that I face by looking right down the spine of my side. Liverpool play Manchester City in the 'Challengers vs. Champions' fixture on Sunday evening. What would I like most? A total shootout like last season when Liverpool won 4-3. Here is hoping. 
Ederson is going to be a busy goalkeeper this weekend; that front three for Liverpool has serious pace and threat. Anfield holds mixed memories for the player after his clearance was pounced upon by Salah to chip over the keeper for an outstanding goal. I cannot see Ederson keeping a clean sheet but it is only this weekend where issues may surface as he has being racking up clean sheets so far this season. 
The back line has one enforced change. Vertonghen is out injured so decided to go with Matt Doherty (Wolves). The defender has impressed in recent weeks with his attacking runs from deep; assist streak continues after his cameo against Southampton last weekend. Doherty looks dangerous against a Crystal Palace side who looked defensive brittle on MNF. 
Alexander-Arnold could be bound to get sent off in the City fixture; could be tempted to switch with Robertson next week. Azpilicueta continues in the back line; a road trip to a Southampton side who are indifferent at best could see the Spaniard earn yet another clean sheet and perhaps a goal from a set piece (hope more than expectation) 
Maddison comes into the side for the expense of Kante. The Leicester City players looks a real threat in open play and set piece; a bargain deal considering the points tally this season. Fraser from Bournemouth for the transfer fee is a snip too. Maddison faces an Everton side who are inconsistent at best; expecting some more good points from the player. 
Mane and Salah are in my midfield. Both players will lift it for this fixture, a key game in the EPL season. Salah's form of last season was an one off but he has being decent this season without getting the goals / assists. Mane's pace will cause City endless issues so as mentioned hoping for a high scoring contest at Anfield. 
Neves continues to rove the midfield; his creativity and talent to the fore but no goals or assists in recent games. Crystal Palace defensive indiscipline may provide some set piece delivery opportunities for the Portuguese player to exploit. 
The front three remain the change. Aguero will look for goals against Liverpool but it won't be easy given the improvements made in the Liverpool back line. Mitrovic at home against an Arsenal side who have had Europa League action poses a good threat of scoring a goal or two. Zaha against Wolves at home will need to conjure magic on his own as Wolves look a good bet to win on the road this weekend. 
There is a lot of hope in this team selection but also a lot of trepidation in the same sentence; things could go spectacularly well in the Anfield clash or it could be a boring 0-0 draw. Roll on the weekend!