Before you start reading this blog, may I suggest you listen to this classic trance anthem from clubland lore. You will get the theme when you see the strife of my Fantasy Premier League team in recent weeks. 
A disastrous couple of weeks since the last blog and no I did not blog because it was that embarrassing. The Maddison and Mitrovic experiments were utter failures and they are dropped from the starting XI.
Looking for a miraculous upturn in fortunes to even get to a respectable position in our private league this season; languishing third from bottom. The banter has started on my selections; a long overdue pint with the lads and it will properly kick off!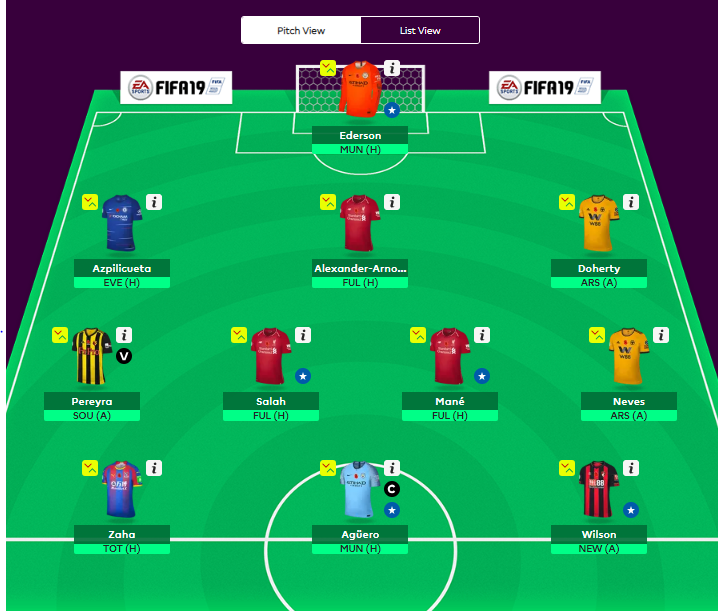 Ederson continues in goal; has being superb this season with multiple clean sheets but this weekend is the Manchester derby and anything can happen, cannot think of dropping the player. Easy points throughout the season. 
The Alexander Arnold experiment potentially has one week left, looking for a big performance from the player or he is out of my side for the next game day.
Azpilicueta has being a solid points player; the same cannot be said for Matt Doherty in recent weeks but will persevere with the Irishman for another week. He offers plenty going forward so hopefully a few assists against Arsenal (hope more than expectation). 
Maddison is sidelined with injury so it is the perfect time to look at my options. Neves produced seven points last week and hopefully can do the same this weekend on set piece duties on the road to Arsenal.
The Liverpool contingent should be smelling blood as Fulham come to Anfield; playing like a Championship side at present. I am expecting a good points haul from Mane and Salah; otherwise there will be trouble ahead.
Pereyra is my new pick; the player has impressed early doors (a sure sign that will fall off the cliff now) but a fixture against a Southampton side who are defensively vulnerable after a trouncing to City bodes well. 
The striking options. Manchester United cannot keep a clean sheet so Sergio potentially may be in for a goal or assist. He has being stellar this season and his cameo last weekend against Southampton was superb despite the yellow card. 
Wilson is my new pick to the strike force; impressed with his movement and goal last week against Manchester United and given Bournemouth's pace and speed, they could potentially cause massive issues for Newcastle on the road.
Wilfred Zaha (Mr. Crystal Palace) has being quiet lately, hoping that the London derby will revitalize him as it has being a tough few weeks for the Selhurst Park outfit. Roll the dice and let us see what the weekend brings!