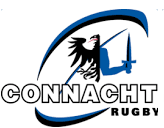 During a post game night on the tiles after Connacht's win over the Dragons a couple of weeks ago, one of the lads in the crew asked where did a particular player who was introduced play at schools level. We were stumped and it raised a further question for me on which second level schools were feeding the provincial and ultimately national senior teams setups?
This blog series will look and recognize the secondary schools who are to the fore in underage rugby player development. They are at times the forgotten piece of the jigsaw. Without second level schools, there would be no talent pool outlet for local rugby clubs, professional provincial and national team setups.
This opening article focuses on Connacht Rugby. The statistics are based on the indigenous born players who have come through the Irish or Northern Ireland educational system. The statistics may surprise some but it is an exercise which provides key trends going forward.
Connacht Rugby Squad: Age profile
The Irish born player age profile in the squad is around twenty-six years. The current first team squad's eldest player is Robin Copeland (31). The playing squad has a good blend of youth and experience. The emergence of academy talent such as Conor Fitzgerald, Colm De Buitlear this season bodes well. Paul Boyle as well has burst onto the professional rugby scene this year and with astute coaching from Andy Friend and staff, optimism abounds in the Sportsground.
Schools Demographic:
The school county breakdown for the Connacht Rugby squad is: Galway (12) and Dublin (10), Tipperary (4), Sligo (3), Westmeath (3), Mayo (2), Laois (2), Kilkenny (2) and representation from Cork (1), Down (1), Limerick (1), Antrim (1), Wexford (1)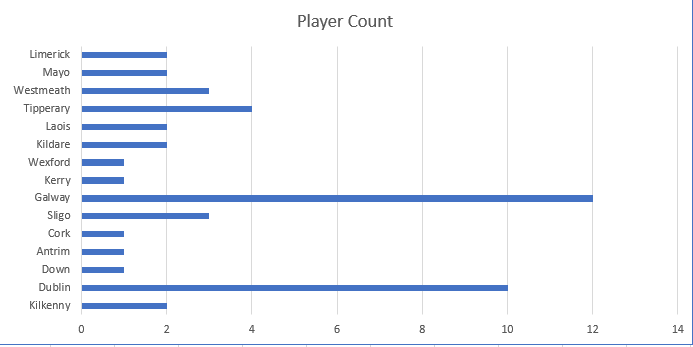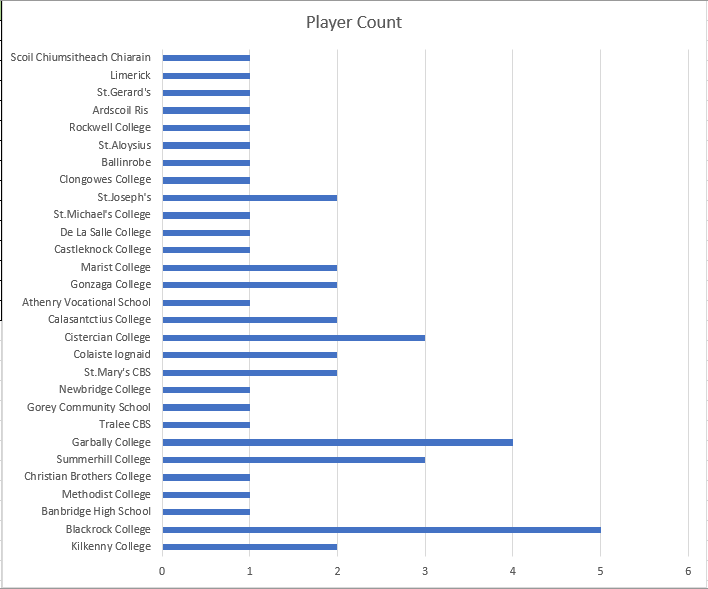 Grass Roots Rugby Club Association:
The local rugby club scene is well represented in the Connacht Rugby squad ranks with Corinthians, Galwegians and Buccaneers forming a good chunk of the squad currently.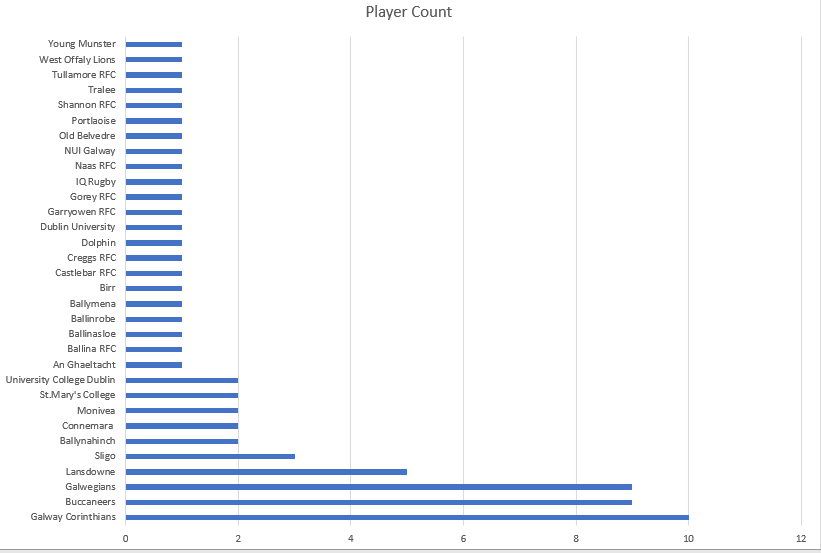 Schools Observations:
The conveyor belt of talent from the Dublin school system is self evident in this squad makeup like in the other provinces. Blackrock College (5), Gonzaga College (2), De La Salle (1), Castleknock College (1), St.Michael's (1).
Connacht schools are also well represented in the squad makeup. Garbally, Summerhill, St.Joseph's provide nine players to the current playing squad.
The emergence of rugby talent in areas not typically associated with the game is seen in this schools breakdown. Ultan Dillane attended Tralee CBS (Kerry). Colm De Buitlear hails from Connemara. Matthew Burke from Ballinrobe. A pleasing trend for rugby union player development within the province.