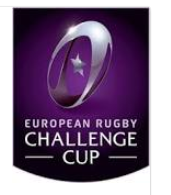 Bless me father, I have sinned, it has being a couple of weeks since my last European Rugby Challenge Cup blog. Here are my transgressions and a look at the playoff picture heading into the fourth round of pool games.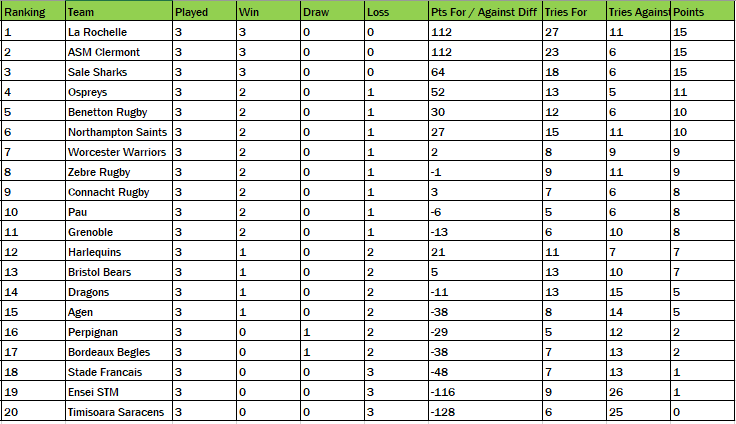 If the playoffs were determined after round three, the following quarter final pairings would be as follows: 
La Rochelle vs. Zebre Rugby
ASM Clermont vs. Worcester Warriors
Sale Sharks vs. Northampton Saints
Ospreys vs. Benetton Rugby
Tale of French Interest and Indifference
As usual in this competition, there have being varying levels of interest from the French clubs. Perpignan, Bordeaux Begles, Agen and Stade Francais have decided that this is not a season priority so no surprise that they are out the back and threading water in this competition until January. To the sponsors relief, ASM Clermont and La Rochelle have decided to give the competition a serious go this season and their performances to date have being outstanding to watch. Pau continue to embrace the tournament and are right in the mix in their pool but their ambition and desire for European competition is not reflected with the vast majority of the sides and needs to be looked at by tournament organizers. 
English interest is high 
Sale Sharks are the leading English side in the rankings after round three and with their fixture list including meetings with the disinterested Perpignan and Bordeaux Begles, they should be pretty close to a top seed berth. Chris Ashton and Faf de Klerk have being outstanding in this level of competition as Ashton looks to secure the top try scoring gong before the quarter final stage such is his scoring regularity at present. 
Northampton Saints will advance to the last eight of the competition given that they have Dragons who are struggling for form and performance along with the hapless Timisoara Saracens side. Saints though were wholly exposed in their defeat to ASM Clermont and their domestic form has being inconsistent at best; a side who will do well to get deep in the playoff stage of the competition. 
Harlequins look a good solid bet to go far in this competition but the defeat to Benetton Rugby on the road has raised serious questions on their credentials. Two home games against Grenoble and Benetton Rugby will need to be won with a bonus point each to have any chance of playoff qualification but with Agen in their pool, they still have an outstanding chance of sneaking a last playoff place. A dangerous side if they do get in late. 
Bristol Bears experienced the power and offloading of La Rochelle last weekend and with a road trip to the French side, it looks like their interest in this tournament will be over by Christmas. Bristol Bears league survival is paramount this season, expect squad personnel changes aplenty for the return fixture with La Rochelle. 
Worcester Warriors are involved in the pool of death with Ospreys and Pau for company. A difficult encounter with an abrasive Paul outfit beckons this weekend and depending on results elsewhere could be out the back door and staring elimination from the competition as Ospreys look to pounce on the disinterest of Stade Francais on the road. 
Injuries mounting for Connacht Rugby
The 22-10 home win to Perpignan was another opportunity for a bonus point spurned; the conditions during the contest were horrific with driving wind and rain making the match into a slug fest. Connacht Rugby have used the competition to blood academy talent to first team action but it has also resulted in additional injuries which the club are proactively seeking emergency loans. The scrum-half position depth chart is exposed with injuries at present so it could be a step too far for the Irish province to make the playoffs given the points tallies of other teams around them. The lack of home bonus points so far may come back to haunt the province come January 19th. 
Ospreys look to strike decisive playoff blow 
Ospreys as mentioned are involved in a competitive pool. Pau and Worcester Warriors are providing good opposition as Stade Francais have waned badly in the competition. Ospreys on the road this weekend to Paris and one would expect them to win this contest; it would be a key win given the Ospreys problems away from the Liberty Stadium this season. Ospreys have quality in the pack with Wyn-Jones and Tipuric in the ranks. The Welsh side should advance to the playoffs and with George North in the back line, they will fancy a cut off any of the sides still left in the competition. All to play for some while the vast majority continue to thread water for this competition to end to refocus on domestic league priorities.