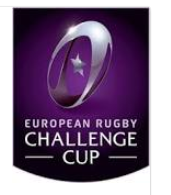 This past weekend saw predictable victories for some of the fancied teams in this competition but mother nature also made an appearance in Romania where heavy snowfall prevented Timisoara Sarcens vs. Northampton Saints from been played; interesting to see when this game is rescheduled. This blog will look at the playoff picture in the competition.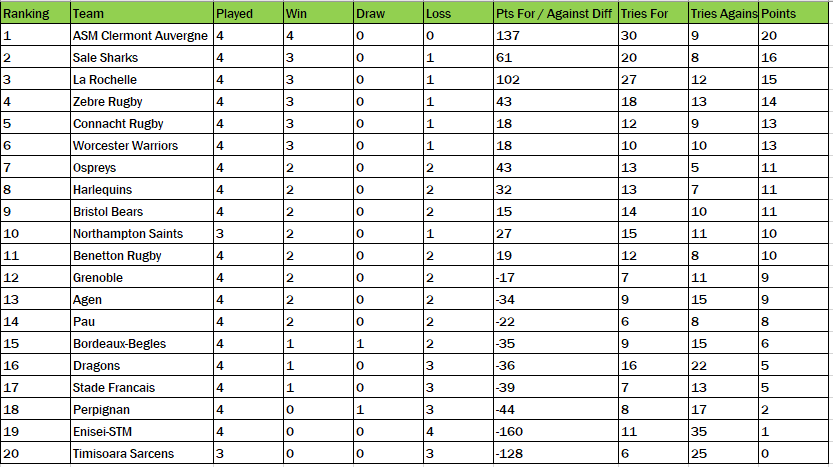 Who is primed to qualify for the quarter final stage?
ASM Clermont Auvergne have stood out in the pool phase of this competition. They put 49 points on Dragons at home this weekend and pretty much secured of a top seeding for the quarter final appearance given that they have Timisoara in one of their last two fixtures.
Sale Sharks and La Rochelle had shock defeats this weekend. They potentially should qualify but the losses to Bordeaux-Begles and Bristol Bears at home is a reality check for both.
Who is on the cusp of the playoffs?
Worcester Warriors win over Pau at home coupled with Ospreys loss to Stade Francais has seen the English side top of their pool but plenty of twists and turns you would imagine will come in this pool.
Connacht Rugby will be delighted with their road trip performance to Perpignan. Their academy players impressed and a quality last quarter saw a bonus point try secured. A key fixture against Sale Sharks in January will determine their playoff fate more than likely.
Northampton Saints are currently out of the top eight at this time but with fixtures against Dragons and Timisoara Saracens, they will look to secure bonus point wins in both to consolidate their playoff position.
Bristol Bears' win over La Rochelle on the road this weekend has reignited their playoff hopes. Benetton Rugby and Zebre Rugby are flying the Italian flag as well, a couple of key January fixtures for both Italian clubs to determine whether they play European Rugby quarter final action in the Spring.
Playoff Fixtures
If the pool phase completed today (hypothetical given that Northampton Saints have a game more to play out) so it is a loose fixture permutation:
If Northampton Saint fail to secure zero points (unlikely) against Timisoara Saracens, the draw would be as follows:
ASM Clermont Auvergne (1) vs. Ospreys (8)
Sale Sharks (2) vs. Connacht Rugby (7)
La Rochelle (3) vs. Zebre Rugby (6)
Worcester Warriors (4) vs. Harlequins (5)
If Northampton Saint secure five points (likely) against Timisoara Saracens, the draw would be as follows:
ASM Clermont Auvergne (1) vs. Connacht Rugby (8)
Sale Sharks (2) vs. Zebre Rugby (7)
La Rochelle (3) vs. Northampton Saints (6)
Worcester Warriors (4) vs. Harlequins (5)