Colm Bonnar is a standout hurling man. His dismissal from the Tipperary managerial senior hurling role and the language used by the Tipperary county board was distasteful at best.
I would challenge any other manager to go into that situation this season with Tipperary and secure a championship win in Munster given the injuries to senior players in a squad which was neglected for years.
Bonnar was given the remit that this was a team in transition. What has changed? The county board will struggle to find someone to take on this job. The mantra is simple. Deliver in twelve months or you are gone.
There is zero roadmaps or a distinct long term vision here. The decision to 'relieve' Bonnar of his duties is testament to that. I hated the wording of this statement. It reeked EPL club officialdom. Bonnar served his county with distinction. This statement was a smack in the face.
This Tipperary hurling team is still in transition. Several other experienced players are near the exit door. Time will be required to blood new prospects from underage teams and dispense with players who are not up to the standard required.
If Tipperary believe that this is a quick managerial fix to resurrect the fortunes of the senior team, they need to think again.
Bonnar will be the first to admit that the results were poor but it sounds like the board did not have faith in their appointment from day one. That is the bigger story from today's statement.
Best wishes to Colm Bonnar. The man needs to stay involved in hurling at some capacity. His work with WIT and other intercounty teams cannot be forgotten about. A standout hurling man. He deserved better.
We roll the tape to today and developments aplenty. Liam Cahill resigning from his role as Waterford senior hurling manager. The timing given what transpired during midweek in his native Tipperary is very coincidental.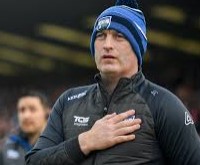 Let's look at Liam Cahill's resume. It is an impressive managerial portfolio. The underage success with Tipperary there for all to see. He will know first hand the underage talent in Tipperary.
The 2016 All Ireland minor final win was a culmination of good work that Liam Cahill and backroom staff completed in the preceding years.
Two All Ireland U21 titles followed along with a Munster U21 title as Tipperary defeated Cork with superb performances full of work rate and desire in 2018 and 2019. The skill set on point as Tipperary oozed class in the full forward line. The emergence of Jake Morris to the fore.
A decision was then made. Waterford came enquiring about Liam Cahill and Michael Bevans' services and the duo make the switch to the Deise in 2019. Waterford were a struggling outfit and Cahill wasted no time in sending out a statement of intent.
Cahill dropped Maurice Shanahan and Noel Connors from the squad immediately; looking in a new direction. The move stunned some parts of the Deise support base but the message was clear from Cahill that he would manage this side his way.
Waterford building nicely in 2020 with some marquee wins over Cork, Clare and Kilkenny in the All Ireland semi-final. Stephen Bennett (1-54) to the fore but they came up against Limerick whose physicality and running game was too much. Munster Final and All Ireland final losses but a superb opening season.
2021 season saw a shaky start to the Munster SHC. A comprehensive loss to Clare in Thurles saw a none performance with Liam Cahill struggling to explain the misfire. Waterford recovered through the qualifiers beating Laois and Tipperary before meeting Limerick in the All Ireland semi-final; another loss.
This season was all good vibes for Waterford at the start of the calendar year. Ballygunner winning the All Ireland senior club final against Ballyhale Shamrocks. The Allianz League campaign saw the side advance to the semi-finals of the competition and Waterford delivered an emphatic win over Wexford. Cork were put to the sword in the opening half as Waterford secured a first Allianz NHL title since 2015.
Derek McGrath was vocal that this was Waterford's year but it all fell flat as a pancake. Tipperary came to Walsh Park and ran Waterford extremely close. The Limerick trip represented a golden opportunity to avenge past championship losses to John Kiely's men but another performance which misfired.
Liam Cahill made the call to issue 'the save our season' call to the Waterford public to come out and support the side against a Cork side in championship survival mode. Cork with Alan Connolly impressive inside won the contest as Waterford's work rate and skill set were executed. Dessie Hutchinson and Austin Gleeson aside, no one else posed a threat.
The last championship fixture for Waterford was a trip to Cusack Park, Ennis. Waterford completely out of sorts as the team's shape imploded. Clare's run game causing massive issues for Waterford, a far cry from the Allianz NHL season.
Liam Cahill was stung by this loss but was adamant when he publicly committed to the Waterford job TG4's Seo Spoirt show. It was an interview which seemed premature given reports in Waterford of squad unrest and leaking of teams ahead of games.
The news today was hardly a surprise. Liam Cahill tendered his resignation as Waterford manager. The two events this week look too close together. Tipperary if rumors are to be true looked for Cahill last year. They will look to get their man for the second time of asking but Liam Cahill should be under no illusions. He needs to deliver victories here with a squad that is in transition.
If Liam Cahill is the man to lead Tipperary, there is plenty to address. The timing today confirms that approaches were made before the managerial review in Tipperary midweek. The Tipperary board looking beyond Bonnar well before this week's review. The cast was already dyed. Tommy Dunne and Paul Curran knew the score too.
A move which Atletico Madrid Jesus Gil would have been proud of who sacked 39 managers in his time as Atletico Madrid club president. Tipperary county board long term vision now needs to come to the table, short sighted firings like Colm Bonnar (let's call it as it is) do nothing for an intercounty team's development.