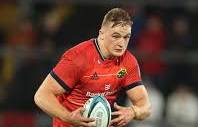 The proverbial game of two halves and a game defining red card here as fourteen man Munster Rugby did enough to beat a galvanized Northampton Saints outfit at Thomond Park 27-23.
The pregame discussion focused on the decision of Munster Rugby management to drop Conor Murray from the matchday squad. A big statement issued to the player as management looked to Craig Casey and Paddy Patterson to ensure high tempo play.
It all started so well for Munster Rugby as they raced into a 10-0 lead early. Joey Carbery slotting over an early penalty and as Northampton Saints set piece was backfiring,
Gavin Coombes powered over from cross range. Inventive work from close range, nice switch play from Niall Scannell setting up the score.
Northampton Saints slow to settle and then a yellow card to contend with. Joey Carbery hit late after the ball had gone by Mike Haywood.
TMO wanted red. The match referee saw mitigation as the player hit Carbery's shoulder first. Yellow card the decision and Munster Rugby fumbled their way for the next eight minutes until patient phase play saw numbers out wide.
Gavin Coombes passing to Jack O'Donoghue to score. 17-0 and the bonus point try was on. Northampton Saints struggling to create any platform.
The game took a decisive turn less than two minutes later and few can argue on the Jack O'Donoghue red card.
Ribbans is caught with the shoulder in the head. Zero wrap, zero mitigation. Munster Rugby were now under manned but that you would know as Gavin Coombes powered over to make it 22-0.
Carbery added the extras but Northampton Saints then started to look threatening with ball in hand, line breaks created only for unforced errors to let them down in the vital attacking phase.
24-0 at the break. Munster Rugby looking to secure a bonus point try but Northampton Saints were absolutely galvanised after the break.
They sensed weakness in the scrum as Salanoa was exposed early. Platform created and numbers created out wide for Tommy Freeman to score a regulation score. Smith converted with confidence. Saints with their confidence rising with each passing minute.
Smith slotted home a penalty soon after as Munster Rugby's scrum was again under the pump. Smith showing leadership and slotted home a confident penalty. 24-10 and the home support concerns were heightening by the minute.
John Ryan now introduced for a clearly injured and struggling Roman Salanoa. A key turnover from Courtney Lawes gave Munster Rugby glorious attacking field position but Munster Rugby's ball retention and phase play was inconsistent. Craig Casey left exposed at the base of a ruck and Saints were able to turnover ball.
Northampton Saints in the groove and produced their best attacking moment of the game with their second try. Their interchange of passing, the astute kick in behind exposing Munster Rugby defensive cover, the turnover of the ball and the quick drive from Ramm to score. Carbery left utterly helpless. Casey around the ruck defensively a non-factor. Smith conversion and Munster Rugby under the pump. 24-17. Game well and truly on.
Munster Rugby again offered attacking territory soon after as John Ryan and Josh Wycherley combined to create a turnover penalty.
The hosts looking to secure the bonus point floundered as Saints were winning the gain line battle. Beirne exposed in the breakdown and Saints won the turnover. The anxiety of the home support and management increasing.
Northampton Saints now creating much needed quick ruck ball as Munster Rugby with fourteen players not committing many to the breakdown battle.
Kendellen not rolling away at ruck time saw Smith slot over another excellent kick. 24-20. Smith looks a real prospect for England and Saints long term. A tense game ensued.
Ramm adjudged to have been tackled by the match referee conceding a penalty. 50/50 call but one that Munster Rugby needed in the context of the fixture. Jack Crowley now at ten slotting the penalty with confidence between the posts to open up a seven point gap.
It was required as Northampton Saints were the team with front foot ball. Shane Daly needing to make a player / ball tackle to ensure that Saints did not cross for a third try.
Saints winning penalties but curiously deciding to go for the posts with time almost up. Smith with three points. Saints perhaps thinking there was an opportunity for one more attacking platform but Gavin Coombes monster choke tackle on Salakaia-Loto saw the end of the game.
Closing Remarks
An interesting fixture. The young Munster Rugby players had to dig deep here as Northampton Saints roared back into the contest after an impressive start.
The attacking intent from the hosts lacked any surprise in the second half. The out the back pass now easily read by the Saints and ball retention became a big issue down the stretch.
Northampton Saints will scratch their head on their opening half performance. It was a nightmare and it ultimately cost them the game and their dreams of Champions Cup progression.
Phil Dowson and team know their potential in attack (top try scorers in the Gallagher Premiership) and they showed that in the second half. This was an opportunity missed. The persistence to skip pass and not use their numbers will be a video analysis critique. They had Munster Rugby on the ropes late.
Munster Rugby's red card meant that this game was always going down to the wire. The management reaction when the side were under the pump was interesting. They backed Jack Crowley over Joey Carbery to close out the contest. This is a huge statement.
Andy Farrell selects the Ireland 6N squad on Thursday. Conor Murray and Joey Carbery are vulnerable given this fixture's backdrop and events during the contest respectively.
Murray's experience would have been suited to when the side went down to fourteen players; experience to read the game and defensive solidity. Joey Carbery linked play well but defensively missed tackles. Crowley appears to be the player that Rowntree backs to close out tight games now, that is ominous for Carbery whose facial expressions spoke volumes.
If those half-backs are feeling the pressure, Gavin Coombes continues to impress and should be assured an international squad call-up. Twenty-three man squad inclusion a high possibility after another hugely impressive cameo.
Graham Rowntree was stoic after this win. He was proud how the team dug out the win but you could sense a frustration that they left a bonus point try out at Thomond Park today. Ball retention and ability to vary attacking lines will be a talking point leading into a huge week against Toulouse next weekend.
Toulouse's abrasive pack, talented half-back and back line will be more than happy to let Munster Rugby have the ball and launch counter rucks and attacks when required.
Munster Rugby still need to deliver a performance next week. If the side were on ten points in the pool after tonight, then qualification to the last sixteen would be locked but nine points leaves potential for sides to nip Munster Rugby next weekend if the side fall to a heavy loss.
Relief would be the key theme for Munster Rugby tonight. Video analysis and improvement areas can take place from Monday onwards but that was a struggle with fourteen players. The players on duty will be feeling the physicality and effort required to get over the line in this fixture. A dramatic fixture at Thomond Park!