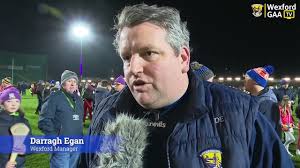 A comprehensive review completed by the Wexford GAA county board which took precisely fifty days to complete has decided not to extend Darragh Egan's tenure as Wexford Senior Hurling manager.
Darragh Egan is a standout hurling man and will be back in hurling management whether that is club or intercounty. It was a tough second season in charge after a promising debut season with Wexford.
Wexford under Darragh Egan last season impressed in league play. There was notable wins in the league starting with the home win over Limerick. The team's confidence high as they made a league semi-final which unfortunately saw a heavy loss to Waterford.
Leinster SHC was a mixed bag. A third place berth secured. Kilkenny win and a draw against Galway but there was a disappointing home loss to Dublin. The squad depth starting to get exposed as Clare beat Wexford in the All Ireland SHC quarter-final.
It was a key objective of Darragh Egan to use the league to run the rule over squad depth. The results this season were a horrendous reality check. The players that got opportunities failed to impress and some heavy losses particularly the home defeat to Clare was a low point of the season.
Wexford's Leinster SHC campaign this year was disappointing. A tepid opening round loss on the road to Galway saw a home win over Antrim. The low point of the championship was the second half collapse at home to Westmeath. The manner of the loss exposing issues in leadership when questions were asked.
The Wexford performances this season at times lacked attacking cohesion. Shooting accuracy was a trend for the side, something that Egan was quick to pinpoint on postgame comments and perhaps upon reflection needed to be kept in house more.
If Wexford could play Kilkenny every day of the week, then Egan may still be the manager of the county side. Wexford facing relegation from Leinster and Liam McCarthy reacted in a positive manner. They showed resiliency against Kilkenny in the final round robin game. They exposed Kilkenny defensively with several well worked goals and won the gamer with an impressive late burst.
This result alone was not enough to safe Darragh Egan but it leaves Wexford with questions to answer. How to address the squad depth issues seen this year? Is there a genuine pathway for young players playing at club level to intercounty? Is the county championship format stifling player development and forcing players to look to other sports?
This is not a quick fix and install a new management team. The relegation scare should be a wakeup call for the Wexford county board here. There will be links to Keith Rossiter, Joe Fortune, Declan Ruth, Liam Dunne but this is an important appointment in terms of vision and how Wexford propel themselves back into the Leinster SHC equation.
Darragh Egan tried immensely hard to make this managerial role work but this year's squad depth at his disposal was exposed. No new manager will solve that overnight and the contingency planning post Chin, McDonald, Ryan needs to gather pace.