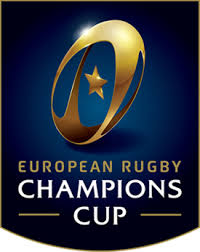 Munster Rugby still have control of Pool 4 and their destiny after securing a gutsy losing bonus point against Racing 92 at the lush surroundings of the U Arena. A truly stunning amphitheater.
A half of two halves
The first European Cup contest to be played at the immaculate surroundings failed to disappoint as the home side got stuck into their visitors from the first whistle and it was no surprise that Racing 92 were celebrating their first try of the contest after only two minutes.
It was a nightmare start for Munster Rugby; pinged immediately by match official Matthew Carley, the hosts were given excellent field position to attack and after several pack phases, Nyanga crashed over despite the best efforts of Rhys Marshall on the try line.
Machenaud was unerring on the conversion. The home crowd were buoyant and Munster Rugby were the team under the spotlight of the referee. The breakdown was an area where Carley was consistent on throughout in the opening period; any players off their feet or not coming into the breakdown straight were pinged at regular intervals.
More Munster Rugby breakdown woe allowed Machenaud to extend the lead to ten points with a confidently slotted penalty from distance.
Munster Rugby needed a response and credit to the visitors who stunned the hosts and their supporters with a sweeping move to get back into the contest resulting in Jean Kleyn stretching to touchdown. The conversion was duly added by Keatley. 10-7. Game on.
The Kleyn try on twenty minutes was a dividing line in this opening period. The hosts so dominant in the first quarter were now forced to defend and with Munster's half backs probing for line breaks, Munster were starting at last to create the platform.
With it, Racing 92 were now the team under Carley's officiating. Two penalties were presented for Munster Rugby; tough opportunities which were missed from Keatley and Murray with a long range effort. Munster were the team in the ascendancy in this second quarter of the contest.
Those penalties coupled with a missed try scoring opportunity during this period were key moments for Munster Rugby upon reflection of this contest. The try scoring opportunity was excellently worked; incisive line break from deep not finished off with the try line at their mercy. Racing 92 received their wake up.
10-7 just before the interval. Carley pinging Munster Rugby for another penalty; eight pens in total in the half but the comment made by Munster Rugby Captain Peter O'Mahoney clearly irked the match official as he penalized the Irish province a further ten meters. From an area of little concern, a penalty kick for Machenaud was presented and duly converted. 13-7 at the break. A ball break passage of play for Munster Rugby.
Second Half Twists and Turns
It was imperative for Munster Rugby to keep solid in the opening exchanges of the second half but the hosts started far the better with Donnacha Ryan and Leone Nakarawa becoming prominent in proceedings. Racing 92's pack taking charge, hitting multiple phases and sucking in Munster Rugby defenders. The ball coming out to Marc Andreu who acrobatically got over despite the close attention of  several Munster Rugby players. 18-7. Advantage Racing.
Munster Rugby were now being asked serious questions of their hunger and fight and yet again, the side delivered with a swift response. Keith Earls who was a constant menace for Racing 92 with ball in hand identifying a mismatch in midfield to create the line break and his pace was enough to cross over for an excellent try. Keatley slotted over the conversion. A superb score from Earls and the Irish province were back in contention. 18-14. Racing 92 suddenly getting nervous.
The home supporters who were in full voice after Andreu's efforts were now back in their seats and Munster Rugby yet again exposed Racing 92 defense to hit the front. Keatley with ball in hand was superb today, quick ruck ball giving the half-back opportunity to launch his three quarters. This time, Farrell was the recipient of a well timed pass from the ten who produced a lovely running line to crash over. 18-21. Munster in front but plenty of twists and turns to come.
Munster Rugby now had to game manage and keep their focus but they failed to keep the lead for any length at all as another penalty was presented to Racing 92 deep in Munster territory to leave the sides equal at 21. Keatley responded with his own penalty. This fixture was ebbing and flowing at a rate of knots.
In a fixture of fine margins, it was going to take something exceptional to decide the encounter. Racing 92's pack must take the plaudits for their third try.
Directly coming from video analysis, identifying how Munster's pack defend the lineout. Szarzewski executing a short lineout call and suddenly creating a 2-1 overlaps for the experienced hooker to score. A superb try. The hours spent on the training ground to execute such a scenario rewarded. A hammer blow for Munster Rugby.
Munster Rugby refused to die though and after Conor Murray had missed a very long range penalty, his composure to slot over another penalty from midfield to make it 30-31 was sensational. Time for Munster now to shut up shop but again restart woes surfaced. Murray adjudged to have illegally entered the ruck. Machenaud slotted his kick over. Racing 92 back in front by the bare minimum.
An intriguing proposition for both teams as they both went for it at the death. Munster Rugby looking to attack from their own line out in midfield but Racing 92 defensively were strong and a knock on from Farrell signaled the end of the Munster Rugby challenge.
Racing 92 took this cue to then attack their opponents, advancing to within five meters of the Munster try line. Desperation stakes for Munster and yet another penalty conceded. Racing 92 refusing to create the BP try scoring opportunity.  Machenaud as he had done all game slotted over and the game was out to a four point game. 34-30.
JJ Hanrahan came on for Ian Keatley but there was insufficient time to change the outcome. Racing 92 were able to close out the game and Matthew Carley blew the final whistle.
Reflections
A sensational dramatic contest. Racing 92 win but significantly Munster Rugby left the U Arena with a precious loser bonus point. Given Racing 92 were only five meters away from the Munster Rugby try line at the end, a two point swing in the pool could have happened. For Munster, take the point and regroup. Discipline and restarts are key video analysis points this week. Carley would have being in his rights to issue a yellow in the opening period given the rapid rise in penalties.
Racing 92 will be happy with this result. They fronted up superbly and with Donnacha Ryan a thorn in Munster's side throughout, a platform was created at various periods. The task for both teams is simple next weekend. Take care of business. Win their games and hope that they can secure a bonus point in the process.
Castres demolition of Leicester Tigers this evening (shutout win) will give Munster Rugby plenty of food for thought but question marks on the Castres squad assembled for Thomond Park fixture will be asked this week.
Castres have traditionally not called up their entire first team squad on the road this season in Europe. If this happens, then Munster Rugby should be confident of winning the pool fixture finale and securing a quarter final berth. A home quarter final is totally up in the air now.
Racing 92 are at Munster Rugby's heels now in Pool 4 after this win. Their play today was excellent. Their pack fronted up and with Machenaud deadly accurate on kicking duties, they will be in confident mood of beating a Leicester Tigers on the road who look extremely vulnerable right now. An exciting weekend finale beckons on January 21st.  A superb advert for the competition. These two teams conceivably could be in the last eight come the end of next weekend!