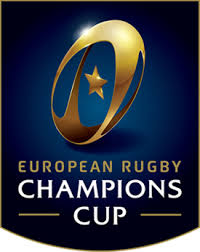 Round five is in the books. Time to get to work and look at some of the permutations which may arise next weekend. Deep breathe. Let's get this abacus calculation exercise started.
Current Standings:
With one round of pool games remaining, Leinster Rugby are the only team who have qualified for the last eight of the competition.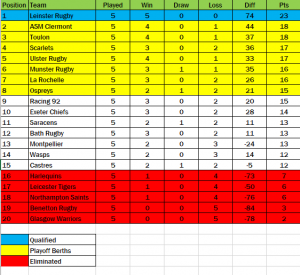 Possible Permutations:
This is why European Rugby Champions Cup is so interesting to both supporters of clubs involved and rugby union neutrals. Fifteen clubs have still a mathematical chance of advancing to the quarter final stage heading into the final weekend particularly when four of the teams currently in the playoff spots will lock horns in the final round. Who are the dark horses to make the late push? Who are the teams who will suffer quarter final elimination anguish? Hawkeye Sidekick looks at the final weekend of pool fixtures.
Teams who should punch their quarter final ticket next weekend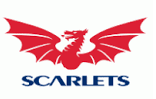 Scarlets along with Leinster Rugby produced the standout performance of round five. Their expansive, offloading play was too much for a Bath Rugby who were blown away in the opening period. The Tadhg Beirne try is a try of the season contender. The variety in running lines, the speed of pass and line running was incredible for the try. Scarlets brushed off their injury issues to the likes of Halfpenny with an assured road trip performance. They were never threatened last Friday night and confidence should be extremely high ahead of their crunch home fixture against Toulon whose squad depth is immense but quite frankly no cohesive performances. Scarlets to produce another keynote performance provided dry conditions are in the forecast. They will win this fixture with a chance of a four try bonus point late on.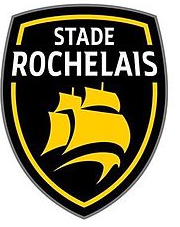 It has being a shaky period in the European Cup season for La Rochelle who were the standout team of Pool 1 early doors. The lack of inexperience and game management on the road has being exposed by Wasps and Ulster Rugby in the last two pool fixtures and now is a time for management and leaders to step up to the plate and deliver an effective performance to win against Harlequins. With a buoyant home crowd, expect La Rochelle to win this contest and a potential bonus try point to take the French side to twenty-one points which will be more than enough to secure a quarter final berth but could conceivably be a road trip fixture.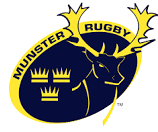 Munster Rugby's loser bonus point to Racing 92 on the road means that the Irish province are still in control of their pool but not necessarily a home quarter final fixture. They will face a Castres side who are an enigma on the road. Their demolition of Leicester Tigers (shutout win) tonight will have being duly noted by Johann van Graan, management and playing staff. Munster Rugby if they can address discipline issues in addition to producing a cohesive attacking display should secure the BP try win required to lift the side to twenty-one points. When you consider that Castres may not show their full hand for this fixture, this is a game for Munster Rugby to plunder.

Ulster Rugby's 20-13 win over La Rochelle showed the potential, the determination and performance that many in the game knew was in the Irish province. A game where Ulster Rugby had to absorb plenty of defensive duties in the first quarter, Les Kiss' charges took their try scoring opportunities in the red zone superbly. With John Cooney in dominant form at scrum-half, confidence should be high ahead of their crunch fixture in the Ricoh Arena. Wasps squandered a huge lead to Quins, the shocking red card (deserved) to James Haskell wrestled the game out of Wasps control. The manner of the loss surely will be another boost for Ulster Rugby but Les Kiss' charges have being guilty of putting back to back performances together. Pack platform paramount. Best and Henderson need to lead from the front to setup the platform. Tentatively think Ulster will get the win here. Twenty-one points min.
Huge opportunity for Racing 92 to advance to the quarter final of this competition. They face a beleaguered Leicester Tigers outfit who are in a miserable run of form. Their performance against Castres tonight was flat, subdued and lack any significant attacking intent. Leicester Tigers are a proud club but one has to ask what side Matt O'Connor will put out in a dead rubber fixture for the club? Racing 92 on the road have being wholly inconsistent this season but given the magnitude of the contest should see a good performance from the Parisian club. A bonus point win looks likely. Twenty points potentially and quarter final action in April.
Teams who look vulnerable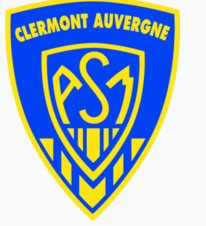 ASM Clermont are teetering on the brink in Europe and it is not even April yet. After a superb December when they accounted for Saracens and took nine points out of a possible ten against the reigning champions, the lack of form in domestic action has surfaced in the European Rugby Champions Cup this weekend. A second half collapse against the out of sort Northampton Saints on the road with no points to show for the fixture has the French side in a must win fixture over Ospreys. Ospreys pack performance particularly means that this is a contest which looks incredibly poised. Given their home record, ASM Clermont with a lot of hesitancy get the nod but it would be interesting to see if Ospreys could go out to an early lead in this fixture. Cue home crowd nerves, cue the team making mistakes. We have being here before! Vulnerabilities aplenty.
Toulon. A team who have assembled world class squads in recent seasons are in a crunch road trip fixture to secure quarter final qualification. The names in their current squad would suggest that the team is well equipped to succeed in this competition but the lack of consistency in performance in this tournament has being duly noted. Bath Rugby and Scarlets should on another day beaten Toulon on the road. Benetton Rugby nearly upset the odds to beat the juggernaut in Italy. Scarlets with a superb victory in round five will relish this winner take all fixture. Toulon's best scenario here is to be within seven points of Scarlets. 19 points potentially and a road trip fixture; could be dangerous come April but right now look vulnerable.
The reigning champions are in bonus point win territory against Northampton Saints. A wretched December run caused by a huge first team injury list saw the side lose twice to ASM Clermont. A draw against Ospreys last night leaves the Aviva Premiership side in a precarious position. Thirteen points and need eighteen points and hope that teams above them right now choke badly to allow them to advance to the quarter finals. Billy Vunipola is a huge loss but they will have too much for the Northampton Saints. BP win will happen but will results elsewhere be as kind? Questionable.
Dark Horses:

Ospreys will be given little chance of winning to ASM Clermont next weekend. A perfect setup for the Welsh region who have picked up form in recent weeks. The pack performance last night against the Saracens impressed me no end; abrasive in contact, breakdown was superbly contested. Biggar and Webb were excellent in game management. The same attributes are required next weekend. Outside chance of progression but given ASM Clermont and their arresting form, Ospreys could be the team to profit and secure a top eight berth.

Bath Rugby are still in this competition despite the reversal to Scarlets in round five. Thirteen points going into the final round of the pool. A road trip to Benetton Rugby who have little to play for. This looks like a five point return for the West County side. Eighteen points on Saturday on the board will put pressure on others around them. There will be upsets next weekend and Bath Rugby might be the team to benefit.
The manner of the demolition of Montpellier yesterday in the second half was outstanding. The pack was outstanding and they repeatedly had their French opposition in trouble on their own try line. Exeter Chiefs travel to Glasgow Warriors who have little interest in the competition. Their performance against Leinster Rugby today lacked the performance levels required. Dave Rennie may decide to rest up additional first team members and with the Exeter Chiefs in excellent form, a five point haul is not out of the question. Another dark horse to consider.
Predictions: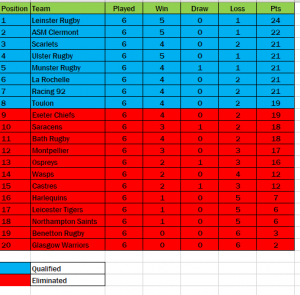 Leinster Rugby — loser point in Montpellier
ASM Clermont — narrow win over Ospreys. No BP win.
Scarlets — win against Toulon. No BP win.
Ulster Rugby — win against Wasps on the road.
Munster Rugby — bonus point win against Castres not enough for a home quarter final.
La Rochelle — bonus point win against Quins
Racing 92 — bonus point win against Leicester Tigers on the road
Toulon — get in by the skin of their teeth, loser point against Scarlets.