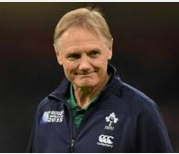 Ireland's fifteen month unbeaten run was ended by a determined and more precise Australian outfit yesterday. Michael Cheika's charges executed a game plan full of work rate, physicality and precision in the breakdown and with ball in hand. Several talking points emerged from the contest.
Pocock Central
Try as the Ireland back row unit could, the Hooper and Pocock partnership for Australia was a decisive factor in this outcome. Pocock in particular was a constant menace for Ireland in the breakdown battle; his ability to slow down ball as well as win possession for his side were to the fore and kept Ireland off balance in the attacking department.
If Ireland have any chance of making this test match series relevant come next weekend, the influence of Pocock and Hooper must be stifled in this facet of play which will require the inclusion of someone like Leavy in the starting Ireland lineup.
CJ Stander's work rate, tackle count and gain line meters were the standout in an Ireland back row unit. Early decisive clear out next weekend from Ireland is the mantra; but they are facing a world class back row unit. Invaluable experience ahead of RWC 2019.
Australia win the physicality battle
Ireland have a target on their backs, they are the reigning Six Nations and Grand Slam winners and opposition will look to set a marker against Joe Schmidt's side early doors.
Credit to Australia for the physicality they brought to the game. They looked to unsettle the half-back pairing with some early hits and their ability to compete in the air throughout negated Ireland's ability to secure territory and build attacking pressure on a consistent basis. The early exchanges in this contest with those early marker hits set the tone for Australia and they never looked back.
Ireland punished for precision issues
This was a good test match. Both sides gave as good as they got but Australia were more precise with ball in hand as they exposed lapses in defensive coverage. Australia are quality with ball in hand, great skill set to identify space out wide and when they identify players coming out of the defensive line, try scoring opportunities are not far behind.
Henshaw's decision to break from the defensive line needed to see the Leinster center get man and ball in the opening period but he got neither and Ireland were then on the back foot which led to Foley's try. Quick clear out in the second half saw Pocock get the time and space to crash over from close distance.
Ireland with ball in hand were quite direct with little or no variation in attacking play; the ability to cross kick or ability to come inside and create an offloading channel were bereft at times. Changes will be made to the Ireland back line unit with Earls early withdrawal and Ringrose and Sexton eager to get game minutes. Effort was there but the lack of precision was not; valuable lesson for Ireland in this test match.
James Ryan Immense
The Leinster second row was the standout story for Ireland yesterday. Ryan's ability in the set piece and his ball carrying was on point; his ability to support his back row colleagues at times was appreciated considering the back row unit issues with Pocock and Hooper. Ryan's game continues to elevate to higher levels.
Given his short tenure in international test match rugby, Ryan has established himself as a world class operator. The issue for Schmidt is who is the perfect foil to complement Ryan? Henderson, Toner and Beirne will look to secure game minutes in the coming weeks.
Ireland Fringe Players secure valuable game minutes
The test match arena is a high octane and pressurized environment so credit goes to Carbery, Herring, and John Ryan for their cameos. Carbery was given a typically warm test match welcome by the Aussies with some big hits but the player was not ruffled and played the percentages well, did not try to force the issue and looked for Murray and his three quarters to create the platform.
The hope is that Carbery becomes more dynamic in game management as the test series progresses but with Sexton chomping at the bit, it remains to be seen what additional game minutes Carbery will get.
John Ryan and Rob Herring were solid as well. Herring's set piece on line out was on point but he was guilty of a couple of disappointing turnovers. Ryan was solid in the scrum and his work rate around the fringes was on point. When you consider how the back up front row fared in the last quarter, Ryan's scrummaging was good. The squad depth chart is being built after these cameos, hopefully scrum-half options will be elevated in the next few weeks.