Solid if unspectacular start to the league last week, the gamble to introduce Neves in my starting lineup was fully merited but Sessegnon did not and with Kante on the bench, easy points were dropped last week.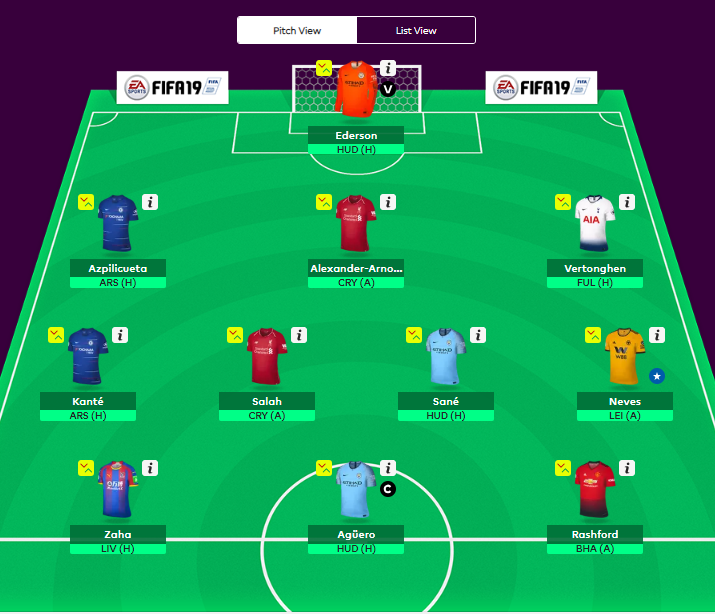 Ederson was comfortable last weekend against Arsenal; a clean sheet secured with the minimum of fuss and more of the same expected at home to a Huddersfield Town side who look devoid of any scoring threat. 
Alexander-Arnold continues to feature in my side; clean sheet last weekend in the rout of West Ham United but an early yellow card blotched the copybook and with his defensive colleague Robertson started well with an assist for Salah's opening strike; Hawkeye Sidekick may wield the axe pronto here. 
Vertonghen continued his World Cup form; standout defensive performance and scored the opening goal in Tottenham's 2-1 road trip win to Newcastle United. Fulham next for Tottenham at Wembley and suspect that the Belgian may get more chances to score at the set piece. 
Cesar Azpilicueta for me is such a solid pick right now; the guy will tally points throughout the year and chip in potentially with a goal or two throughout the season; expecting Chelsea to be solid defensively with Sarri in charge. No need to change the Spaniard from the side. 
The one change to side is including Kante for Sessegnon who showed flashes of promise but ultimately offered little to test Palace last weekend. Tottenham this weekend was the decisive reason to drop the youngster from my squad entirely. Kante scored last week and all indications suggest that the World Cup winner will play a more advanced role; decent finish to start Chelsea's account last weekend, more to follow I hope. 
Salah, Sane and Neves retain their spots. Sane hopefully gets game time this weekend. Huddersfield Town look ripe for the picking; imagine Sane rampaging on the flank but given the form of Mahrez and Bernardo Silva last week, will Pep Guardiola look to keep as it is? 
Salah opened his account for the season with a regulation strike from close range following great work from Robertson; the front four should prove too much for Palace on MNF and hopefully the Egyptian focuses on scoring goals and not using his mobile phone while driving!
Neves was the pick of my team last weekend. The player will not be at Wolves come January; the Portuguese player looks a standout for the side and his cameo was superb. Expect some of the big fish to make queries on the player come next January. Neves play a Leicester City side who to be honest were inconsistent at best against United last weekend so Neves could have another good day in the Wolves midfield. 
The attacking options remain unchanged. Even though, I think Liverpool should have too much for Palace, Zaha if given decent supply could pose issues to the Liverpool defense; another goal would be nice. Rashford has the talent but the goal ratio is not matching up; a road trip to Brighton Hove & Albion looks a mixed bag so it is all down to Sergio Aguero to hit the goals against Huddersfield Town; otherwise the points tally will look meek with the vulture they call relegation form looming large on the horizon.