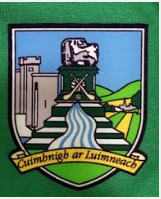 In March 1993, Limerick band The Cranberries released their debut album 'Everybody Else is Doing It, So Why Can't We?'. Among the several standout tracks in the album was 'Dreams', a song which is about feeling in love for the first time. 
The song has started to gain momentum and air play during the Limerick All Ireland Series run this year; a song now poignant due to the untimely passing of the legend that was, that is and always will be Dolores O'Riordan.
The feeling of having the coveted Liam McCarthy Cup back in Limerick after forty-five long years resonates with the song and celebrations in the city and county will go long into the winter. The homecoming party tomorrow will be one for the ages and hopefully we will not have to wait another forty-five years to win Liam McCarthy again. 
Limerick is my county of birth; a county in which I started to play hurling with Ahane, a club stepped in tradition, a club where the names of Mackey, Herbert, Ryan, Power are sacrosanct. Hurling is everything and the morale boost from club or county success flows through the parish always as homes and shops are decked out with messages of support.
I have seen the disappointment too all too often. I will never forget the club bus trip to the '94 final; the collapse in the final ten minutes against Offaly was hard to take as the bus stopped at various watering holes to get over the shock before landing back at Newgarden GAA grounds at some ungodly hour.
The Limerick All Ireland win today is a triumph for everyone connected to the county; anyone associated with the association who has aided in the development of players from national school to club to county squads.
Limerick success today has being created in no small part by the underage structures established within the county; players identified at a young age and the system allowing for late bloomers to come into the county setup if they impress in underage games. 
Limerick's win today will give hope to everyone next season in that if you commit to underage structures, commit as a senior squad to train hard and complement that with the best of the best backroom staff possible, anything is possible. The acquisition of Paul Kinnerk and Caroline Currid have being huge; their contribution to this triumph cannot be understated. Winning culture established. 
Limerick have had to look on with envy these last forty-five years with the success enjoyed by near neighbors. Clare, Tipperary, Cork have all basked in All Ireland glory and there have being difficult banter sessions with work colleagues from these counties at work offices in the Mid-West region during this period.
I am still in a state of shock; a state of disbelief that today has finally happened. Limerick have reached the summit; they have won Liam McCarthy. It will probably sink in more as the days go by but tonight, I think of majestic past Limerick players who did not get over the line. I think of Limerick friends in distance lands, Limerick friends unfortunately no longer here to enjoy this moment, some of which departed far too young. A touch emotional as I drove back to Galway tonight when reflecting on these thoughts earlier.
This is a triumph that has broken the inhibition of failure around Limerick hurling circles; broken down the dejection and sadness of past near misses. A triumph that will ignite hurling back throughout the county.
The Cranberries posed the question: Everybody Else Is Doing It, So Why Can't We? Limerick Senior Hurling team have responded today. Limerick Senior Hurlers are doing it. Over and out from a proud Limerick man tonight. Roll on the homecoming tomorrow!