It has been a while since I last posted on my Fantasy Premier League team. A tough couple of weeks particularly when I forgot to take out Aguero from my starting lineup and zero points coming from Mr. Crystal Palace (Wilfred Zaha) so time to panic transfer and also hoping that certain players emerge from the treatment table.
It feels like I am embattled. Yes, you have that right and if results go against me this weekend, then I will be propping the league table in my friend's private league. I will be the proverbial turkey at Christmas during 12 pubs of Christmas coming to an East Limerick village this weekend. I could be primed for the slaughter.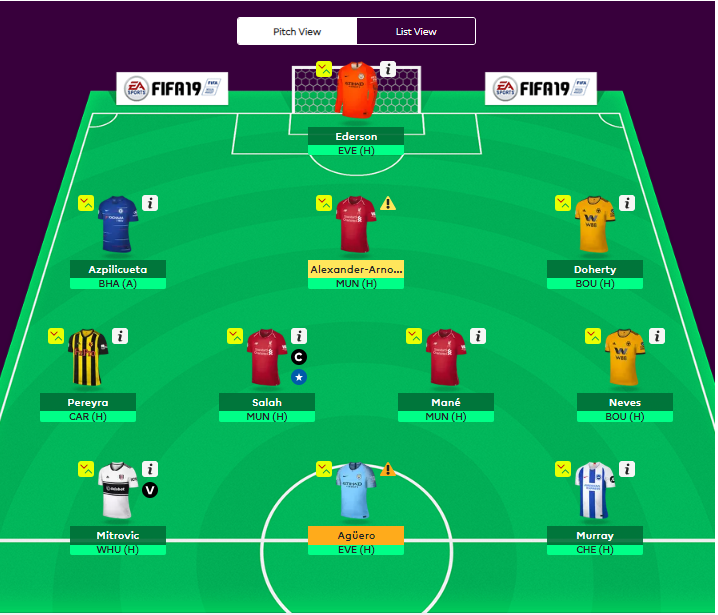 The injury doubts at the time of this blog posting center around Alexander-Arnold who is rated 75% to play against Manchester United. Aguero is rated 50% to feature against Everton at home but given the fact that City are now second in the league, could Pep Guardiola decide to thrust his star striker back into the starting lineup. His presence and potency in front of goal has been missed. Here is hoping both players play and score high. 
The striking options for Hawkeye Sidekick XI is a mixed bag. Zaha is injured so is taken out of my squad. Glenn Murray has been added in, has been prominent this season with some key goals. I have Mitrovic again in the starting lineup to deliver goals. West Ham at Craven Cottage could be a good fixture to deliver. My trust levels on both picks are suspect right now. Barry Fry style management transfers could be in the offing next week. 
The rest of the side is unchanged. Matt Doherty scored last week, prominent in Wolves' attacking threat in recent weeks. Neves would want to follow suit, patience wearing thin with the Portuguese midfield dynamo. Pereyra provided an assist on MNF so hoping for a good run of form from the Watford midfielder and with Cardiff City at home, optimism is high.
Ederson and Azpilicueta are my consistent go to picks this season. Both players have good points accumulated this season. The problem has been in midfield and striking areas. Time hopefully to arrest the slide!